'Scarface' in theaters nationwide for 35th anniversary
LAPACAZO SANDOVAL and ART SHRIAN | 6/1/2018, 10:57 a.m.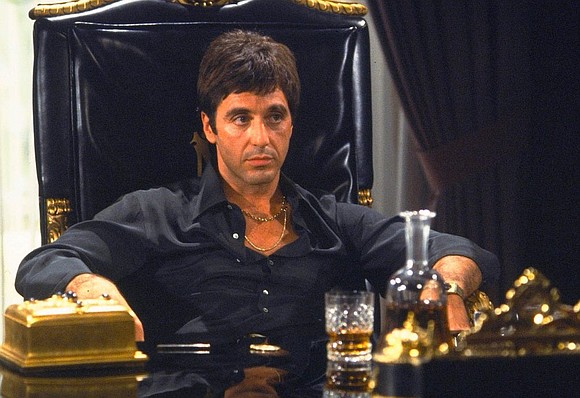 The screenplay for "Scarface" was written by Oliver Stone. The now-epic classic crime drama was directed by Brian De Palma and produced by Martin Bregman ("Dog Day Afternoon"), and the dialogue, brilliantly presented by Al Pacino as a Cuban immigrant, Tony Montana, is still being recited in popular culture around the world.
Tony Montana: You wanna [expletive] with me? OK. You wanna play rough? OK. Say hello to my little friend!
Universal Pictures, Screenvision Media, a national leader in cinema advertising, and Tribeca Film Festival, presented by AT&T, will bring "Scarface" back to movie theaters nationwide, in celebration of its 35th anniversary.
Tony Montana: I always tell the truth. Even when I lie.
Additionally, film fans outside of New York will have the chance to participate in a Tribeca Film Festival retrospective event on the big screen for the first time ever. As part of the 35th anniversary celebrations, moviegoers are invited to watch the cult classic film, followed by the Tribeca Film Festival post-screening conversation, during which "Scarface" director De Palma, along with actors Pacino, Michelle Pfeiffer and Steven Bauer reunited to discuss the film and its lasting impact. Screenings will take place at select theaters in cities nationwide, such as New York, Los Angeles, Chicago, Philadelphia and Dallas June 10, June 11 and June 13.
"Scarface is a timeless film that has influenced pop culture in so many ways over the last 35 years," said Darryl Schaffer, executive vice president of operations and exhibitor relations, Screenvision Media. "We're thrilled to partner with Universal Pictures and Tribeca Film Festival to bring it back to the big screen in celebration of its anniversary. The Tribeca Film Festival talk was an important commemoration of the film. We're excited to extend it to the big screen and provide fans a behind-the-scenes insight into what production was like in the 1980s."
Tony Montana: I never [expletive] anybody over in my life didn't have it coming to them. You got that? All I have in this world is my balls and my word and I don't break them for no one. Do you understand? That piece of shit up there, I never liked him, I never trusted him. For all I know he had me set up and had my friend Angel Fernandez killed. But that's history. I'm here, he's not. Do you wanna go on with me, you say it. You don't, then you make a move.
Brian De Palma's modernization of Howard Hawks' 1932 classic "Scarface" is a somber consideration for the humanizing motives of evil men. The film received three Golden Globe nominations and remains one of the most referenced films in pop culture. Al Pacino helped garner a huge cult following for the film after delivering one of his riskiest performance in this career-defining role.
"Tribeca has a rich history of producing legendary reunion events," said Paula Weinstein, EVP, Tribeca Enterprises. "We are thrilled to be able to replicate the festival experience with audiences across the country. Our gratitude to Screenvision and Universal. 'Scarface' has had a strong influence on popular culture, and reuniting the cast for the 35th anniversary was an evening not to forget."
For the full theater list, more information and to purchase tickets, visit http://www.scarface35.com.