The 150th running of the Belmont Stakes hosts Triple Crown contender
Vincent Davis | 6/7/2018, 1:25 p.m.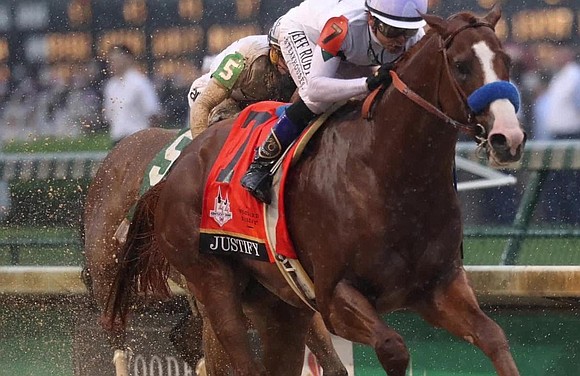 Fans of horse racing have an added incentive Saturday to place bets or to simply just appreciate the sport that much more. It's the Belmont Stakes, the 150th anniversary. This year it features potential Triple Crown winner, Justify, the winner of the 2018 Kentucky Derby and the Preakness, both held last month, the two-thirds of the races needed to be a Triple Crown contender. 
Justify, on a five-race win streak, is a 1,260-pound, 3-year-old colt competing in only his sixth race. He made his debut this year in February, attracting the attention of the horse racing community by winning his first race and following it up with two more impressive victories, qualifying for the Kentucky Derby, his fourth straight win. 
The Belmont Stakes, held at Belmont Race Track across the Throggs Neck and Whitestone bridges, on the road to Elmont, N.Y., just outside of Queens, is a 1.5-mile race. It's the longest of the three. Ten thoroughbreds are scheduled to compete. A capacity crowd of 90,000 is expected. The total prize money is $1.5 million for the first to fifth place finishers. 
The winner, first place, receives $900,000 of the prize money, second place receives $300,000, third place receives $165,000, fourth place receives $90,000 and fifth place receives $45,000. 
Justify will be ridden by jockey Mike Smith. He is trained by Bob Baffert, who also trains Restoring Hope, also entered in the Belmont Stakes. Baffert trained 2015 Triple Crown winner American Pharaoh, the last horse to sweep the series.
A horse with an interesting name, Gronkowski, is also competing Saturday, named after New England Patriots tight end Rob Gronkowski, a co-owner. This race will be his horse's first race on a dirt surface and first race at that distance. 
Since 1919, there have only been 12 Triple Crown winners. Sir Barton was the first. Secretariat, who won it in 1973, the ninth winner, has the fastest time at Belmont of 2:24, a record-setting time. The slowest time, 2:34 in 1970, is held by High Echelon. 
Willie Simms, a Hall of Fame American jockey, was the first Black jockey to win at Belmont. He took it back to back in 1893 and in 1894. Simms also won the very first Kentucky Derby, held at 1.25 miles in 1896. He won the Derby again and the Preakness in 1898, all three legs of the Triple Crown.