Black women share words of wisdom at New Jersey college commencements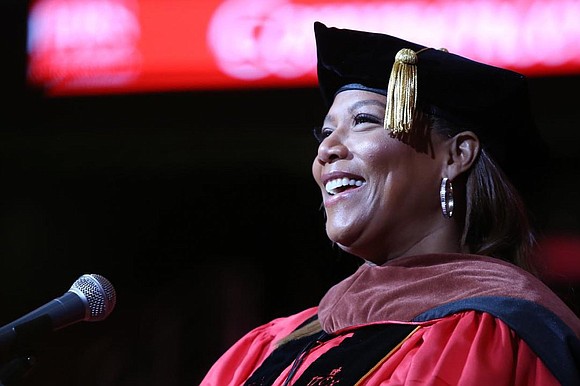 New Jersey Lt. Gov. Sheila Oliver, Queen Latifah and Anita Hill gave life lessons during their commencement speeches at three New Jersey colleges.
Oliver spoke to graduates at Montclair State University. The school set a record conferring 5,309 bachelor's, master's and doctoral degrees. Making history herself, Oliver was New Jersey's first Black lieutenant governor and the first Black woman to serve as speaker of the General Assembly.
"Your generation is proving itself impatient to leave its mark, and so I say, go out and do it! This is an awesome day for which you have worked hard and long," Oliver said during her address to graduates. "But it's really just the beginning of your journey. Go out and write something wonderful with your life."
Speaking at Rutgers University-Camden, Latifah can now put the prefix "Dr." before her name because she received an honorary doctorate degree from the school.
During her speech, the Newark native told the more than 1,500 graduates that putting their talents together and collaborating will create a bright future for everyone in the nation.
"You are the testament to a powerful and enduring truth," Latifah said. "When we value diversity, when we share our individual gifts, our individual stories, we create the mosaic that is America at its very finest, at its very best."
Executive Vice Chancellor Sherri-Ann Butterfield said that Latifah was chosen as the commencement speaker because of her work in helping those less fortunate, including founding a scholarship foundation for low-income youth.
"It is critically important that we understand that amazing Black women like Queen Latifah and other women of color went, and continue to go, through countless challenges to obtain their power and successes and we truly honor her and them for their consistent fearlessness and fierceness," Butterfield said.
Making an impact on social justice was the focus of Hill's address when she spoke to law school graduates from Rutgers University-Camden. The attorney and Brandeis University professor also addressed the #MeToo movement.
Hill discussed her 1991 testimony before the U.S. Senate in which she accused then-Supreme Court nominee Clarence Thomas of sexual harassment.
"We will never be the same after the #MeToo movement, after such revelations of sexual violence," Hill said. "We can never as a society ignore it and pretend it doesn't exist. We can't be the same as we were before, and we certainly can't go backward when we know that so many people are hurting and suffering."