Charles W. White, an artist and muralist of political commitment
Herb Boyd | 6/7/2018, 11:19 a.m.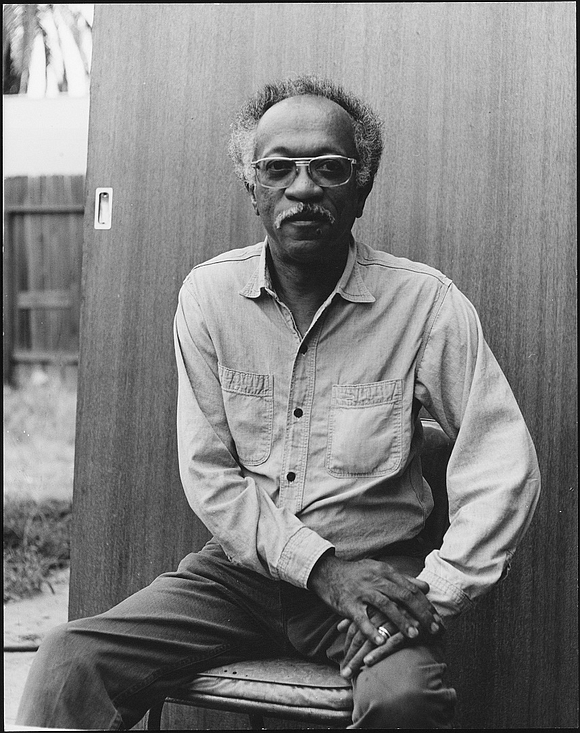 No gallery or collection of African-American artists is complete without one from Charles Wilbert White. And that was particularly true for publications that desired to graphically depict some element of the growing radical political outlook in the nation. White's paintings often accompanied articles and essays of a strong progressive content, one that embodied a militant stance against racism and oppression.
Exemplary of his social realist art is "The Ghost of Frederick Douglass," and as is the intent with many of his homages to African-American history and struggle, there is an ensemble of images of people, each person with his or her own story of fighting against injustice.
In an extensive interview in 1965 with Betty Lochrie Hoag for the Archives of American Art, Smithsonian Institution, White disclosed his background and development as an artist. "I was born in Chicago, Ill., April 2, 1918," White stated. "Father was a railroad and construction worker and worked in steel mills in South Chicago. In his last years, he was working at the post office in Chicago. My mother was a domestic worker all her life. She started when she was about 8 years old, still is a domestic worker, and now is about 67 or so."
White told Hoag that his interest in painting began when his mother bought him an oil paint set, and by the time he was 14, he was a
professional
sign painter
working for a theater earning $75 for each of his signs. But that came to an end when the union forced the theater to fire him. Even so, he continued to paint signs for the next four years as the Depression grew even more debilitating.
During his last year of high school, White was the recipient of three scholarships, and by 1937, he began formal training at the Art Institute of Chicago, a preparatory stage for his incomparable murals for the WPA. "You have no idea what a thrill that was," he told Hoag. A full-time scholarship, however, did not include living expenses, and eventually he was able to acquire part-time employment as an interior decorator. "That first year in art school I also got another job with a Catholic high school, St. Elizabeth's Catholic High School, which I taught one class to the senior students," he said.
In 1941, White got a job teaching at Dillard University in New Orleans. One of the significant events of his yearlong stay at the university was his marriage to Elizabeth Catlett, who he had met in Chicago and who would become a renowned artist in her own right. "Then I got a Julius Rosenwald Fellowship, which is the reason we left Dillard," White explained. Subsequently, they went to New York. "And that's where I entered the Art Students League and took a course in graphics with Harry Sternberg," he continued.
One fulfillment of the Rosenwald award was to contribute a mural at some African-American college or university. White chose Hampton Institute to complete his mural, which took nine months. The mural, in one of the school's auditoriums, depicts interwoven scenes of Crispus Attucks with images of other Black notables, such as Frederick Douglass, Harriet Tubman and Booker T. Washington, who attended Hampton.