The Eagles refuse to be bit actors in Trump's Political Theater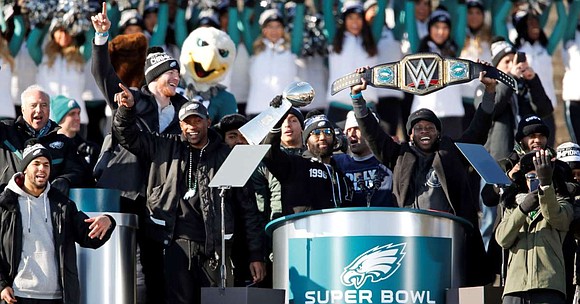 Donald Trump is a virtuoso at political theater. His greatest skills are a mastery of manipulation and engineering spectacles. Tuesday, the Philadelphia Eagles refused to be B-list actors in his poorly staged production of racist symbolism.
Using the United States Marine Band and the United States Army Chorus as human props, Trump held what was labeled a "Celebration of America" on the south lawn of the White House to honor the American flag in lieu of holding a ceremony to commemorate the Eagles' Super Bowl victory over the New England Patriots this past February as originally planned.
Trump's self-absorbed psyche immediately paralyzed what little rational thought he possesses when he learned most of the Eagles players would not be accepting his invitation to attend the event, so he disinvited them. Their decision to forego the occasion was a rebuke of Trump's strident opposition to NFL players holding silent protests during the playing of the national anthem before the start of games, as well as his divisive weaponizing of identity politics.
"They disagree with their president because he insists that they proudly stand for the national anthem, hand on heart, in honor of the great men and women of our military and the people of our country," read a statement issued by Trump Monday night. 
Less than 24 hours later, White House Press Secretary Sarah Huckabee Sanders, whose primary role is to provide cover and spin for Trump's incessant lies, engaged in classic projection when she stood before the press and called the Eagles nonviolent, innocuous exercise of free-will a "political stunt."
Trump's typical misleading missive framed a false narrative because no Eagle player knelt during the playing of the "Star Spangled Banner" last season. The protests, started by former San Francisco 49ers quarterback Colin Kaepernick during the 2016 NFL preseason schedule, were demonstrations meant to bring attention to social injustices.
Over the course of the protest, many players articulated their respect and admiration for the U.S. military and made it clear their intent was never to dishonor the American flag. Conversely, Trump, a charlatan who relishes in accusing others of being unpatriotic, looked eminently foolish as he was unable to sing along to God Bless America on the south lawn because he didn't know most of the lyrics.
In an extensive tweet #TheFightContinues, Eagles safety Malcolm Jenkins, a leader in the NFL's social justice movement, expressed the sentiments of numerous players across the league's landscape:
"It's hard to meet with people who don't agree with you and to have tough conversations about race-related issues and how to make positive change.
"It takes empathy and time to listen to others' experiences … It takes courage to stand up for the TRUTH even if it's not a popular…
"...We've fed the hungry…we've fought to create opportunities for communities and individuals who have been disenfranchised, we've given scholarships and the list goes on…"
The opportunities Trump are interested in and seizes almost always entail helping himself. Tuesday was an opportunity for him to pander to his base and further inflame the culture war raging in this country.