Liberty drop close game in Garden return
Lois Elman | 6/7/2018, 12:59 p.m.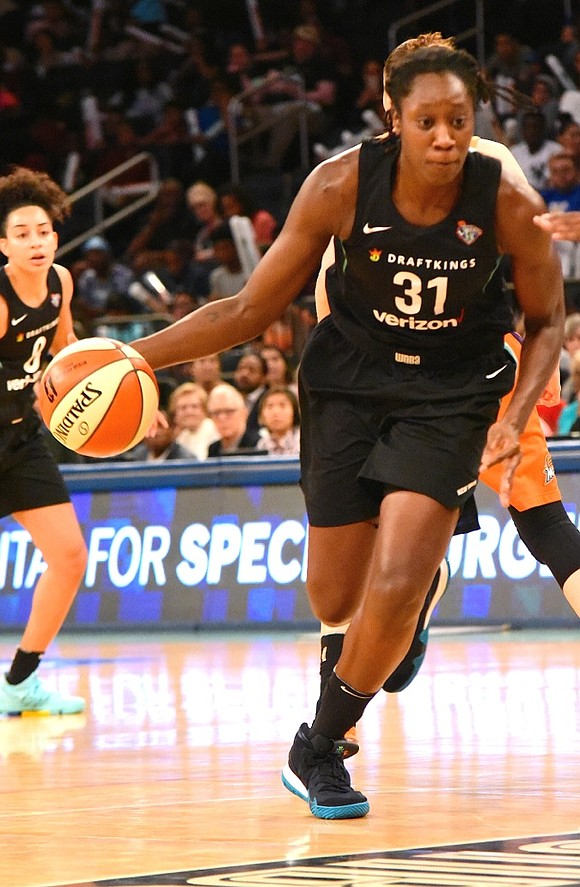 Madison Square Garden was rocking with enthusiastic kids at Tuesday's school day game, but unfortunately the New York Liberty lost a close one to the Phoenix Mercury 80-74. Although the Liberty played well and dominated at times, costly mistakes coupled with the potent offensive power of the Mercury proved to be too much.
"Tough one. Lots of opportunities to win the game today. They made plays; we didn't. Didn't get some stops when we needed to. A couple of fouls. Lots of little things over the whole game that obviously put us out of position. Couldn't quite get ourselves pulled away," said Katie Smith, who made her Garden debut as head coach.
"Two great teams compete, and it always sucks when one team comes out on the losing end," said guard Shavonte Zellous. "We've got to rebuild. Get back to the drawing board and move on."
The game marked the return to action of guard Brittany Boyd a year after her Achilles tendon injury. She showed her usual hustle and heart, and even managed to make a bucket. "Trying to work into game shape," said Boyd. "Wish we'd have gotten the win, but it's all good. I'm 100 percent and ready to go."
Forward Marissa Coleman is settling into her new team and learning how best to work with her teammates. She enjoyed making her Garden debut as part of the home team. "It was a good experience," said Coleman. "Each game, I'm learning something different and getting better in certain situations."
Smith noted that the little things made the difference, but these are things that can be fixed as the season progresses.
"It's going to take time. It's still really early," Coleman agreed. "It's all correctable. It's on us."
"We've got to be able to get stops and also hit shots when the game's on the line," said guard Bria Hartley. "We know every game is going to be close, so we've got to work on finishing out tough games."
Kia Vaughn missed training camp because of overseas commitments but has meshed nicely into the Liberty lineup. "This team is really great," said Vaughn. "We just have to even