'Paradise Blue,' Ishmael Reed's Play
Ron Scott | 6/7/2018, 10 p.m.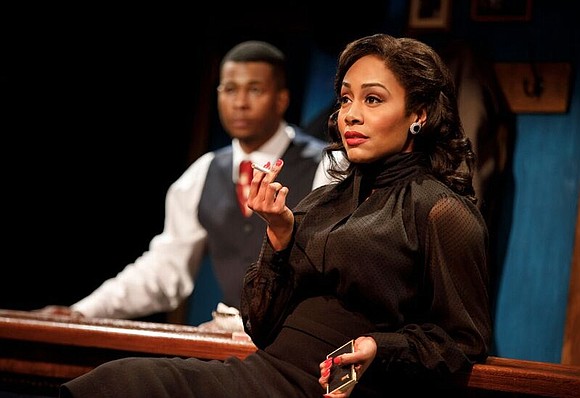 The play "Paradise Blue," written by the award-winning playwright Dominique Morisseau ("Skelton Crew" and "Pipeline") gets its title from Detroit's Paradise Valley entertainment district that was prominent in the Black community known as Black Bottom during the 1940s through the early 1960s.
The action takes place in 1949, and the word gentrification defiantly drags anxiety through muddy conversations at Paradise Blue as its owner "Blue" (J. Alphonse Nicholson) debates whether to sell his hip little jazz juke joint and start over, or stay and be consumed by his demons.
The director, Ruben Santiago Hudson, has brought together five amazing actors, who resemble an intuitive jazz quintet whose phrases swing with a rhythmic force that shocks, brings humor and ignites awareness. "The point is Dominique writes poetically," said Hudson during a phone interview. "Her words sound like songs that riff with a distinct Black rhythm,"
"Paradise Blue" echoed my feelings from experiencing the plays of August Wilson, the Pittsburg-set series that featured Black families in conflict. The characters working at this club aren't blood related, but they are family, loosely jointed while sharing the same conflict: What to do? Where to Go?
Corn (Keith Randolph Smith), Blue's pianist, the drummer P-Sam (Francois Battiste) and Blue's woman Pumpkin (Kristolyn Lloyd) have their own ideas about what to do, until the steaming, determined temptress Silver (Simone Missick) comes on the scene like a blistering volcano burning a few with her lava. As she tells the shy Pumpkin, "You can say what you want with a gun in your hand."
"I was working with a great company, who respect the craft," stated Hudson. "It was a beautiful navigation. I am an actor's director. Having worked on over 100 plays, I have taken the best of those directors and added it to my directing experience. How to work with actors and what makes them tick is part of the process."
The history that "Paradise Blue" floats on is as long the Nile River. More than 100,000 Black people migrated to Detroit, creating a viable community of Black-owned businesses, social institutions, schools, churches, stores, banks and apartments.
Detroit was major stop on the Chitlin' Circuit that featured major blues singers, big bands and jazz artists, including Detroit natives Barry Harris, Marcus Belgrave, Howard McGhee, Tommy Flanagan and the Jones brothers Hank, Elvin and Thad, as well as Count Basie, Billy Eckstine and Pearl Bailey.
"Yes, it was important to speak with the cast about knowing the history of this play," noted Hudson. "I feel I'm the custodian taking care of the history of my parents and grandparents."
The play's music director is Bill Sims Jr. He composed music for August Wilson's "Jitney" and "Two Trains Running." The original music was composed by Kenny Rampton, a member of the Jazz at Lincoln Center Orchestra. His composition, "Paradise Blues Suite," was recorded with JALCO musicians Victor Goines, Sherman Irby and Marcus Printup. It will be released in the near future.
"Paradise Blue" runs now through June 17 at The Pershing Square Signature Center, 480 W. 42nd St., New York, N.Y. For tickets call 212-244-7529 or visit signaturetheatre.org.