'Paradise Blue,' Ishmael Reed's Play
Ron Scott | 6/7/2018, 10 p.m.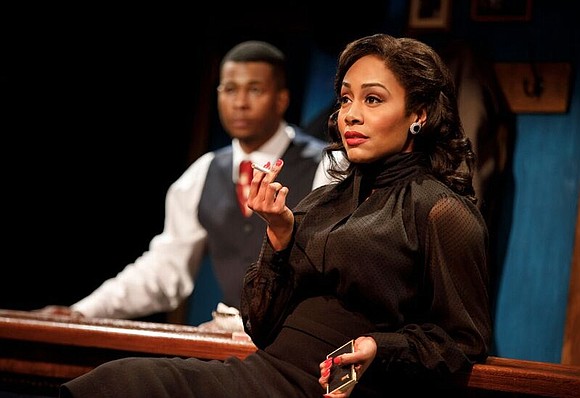 Ishmael Reed's sarcasm and humorous wit is sharper than a razor blade shinning at a Saturday night honky tonk fight. It is his weapon used to stimulate or agitate minds as he challenges the politics of American culture through his political satire.
His satirical works include books such as the acclaimed novel "Mumbo Jumbo," "Yellow Back Radio Broke-Down," "Flight to Canada," "The Freelance Pallbearers," and "Reckless Eyeballing," as well as essays, plays and poetry. He is the winner of the prestigious MacArthur Fellowship (genius award) and a Pulitzer Prize nominee.
His most recent play, entitled "Life Among the Aryans," directed by Rome Neal, is having its premiere run now through June 24 at Nuyorican Poets Café, 236 E. Third St. (between Avenue B and Avenue C).
The play takes place in the future, and if you think white folks went berserk over the election of President Obama, now there is a Jewish president in office and the head of the FBI is a Black woman. This situation presents such a nightmare to the "far right" that they miss their simplistic scapegoating of Muslims.
The pendulum has moved so far to the left that the government has enacted reparations of $50,000 to Black Americans for the unpaid labor of their ancestors. That inspires envy and desperation among the poor proletariat members of the alt-right. However, some of the white women, who have given up on the rhetoric of their Aryan husbands and the White Lighting Network, have found a way to get reparations with the aid of Dr. Krokman, a Black man. 
I could tell you more, but then the genius of Reed's writing and diabolical plots wouldn't be a surprise. Ironically, it's a wondrous tale that says regardless of the circumstances, whites can't get past their supremacist ideals to recognize they are being manipulated by the government like everyone else. Such poor fools that might destroy the world.
The AUDELCO award-winning actor, director, jazz singer and promoter Rome Neal has assembled a cast of professional and non-professional actors for Reed's New York premiere of "Life Among the Aryans."
"Putting this cast together of actors and non-actors was rather difficult, but they stepped up to my expectations," stated Neal. "They are real people, so they bought a different energy to the play. Trying to be Aryans is so different from who they are and that was very challenging for us."
For Lisa Pakulski, it was her debut performance as an actress. Previously, she could be seen onstage performing with the pianist Barry Harris' choir. "I felt kind of strange saying some of those lines as an Aryan wife," said Pakulski.
The poet and percussionist Eric Frazier was also on his maiden voyage as an actor. He proved to be just as dynamic as his conga playing.
"I wanted to get real people, not professional actors to tell Ishmael's story," said Neal during a phone interview. "To have his words out there and his vision of the world."
For ticket information, visit www.nuyorican.org or call 212-780-9386.