Peace up, guns down for Gun Violence Awareness Month
KYANA HARRIS Special to the AmNews And By NAYABA ARINDE Amsterdam News Editor | 6/7/2018, midnight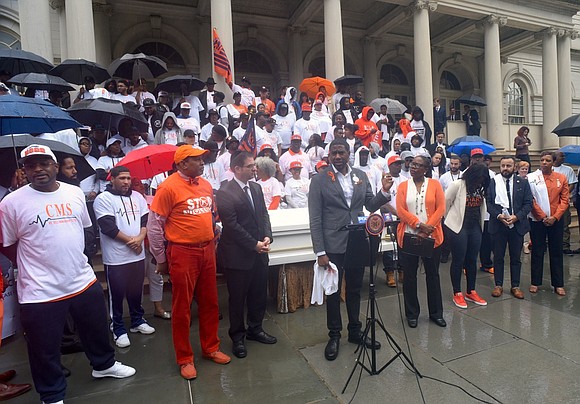 "If we had a moment of silence for every Black and Brown kid that was a victim of gun violence, we would never leave this place," said Carolyn Dixon, mother of a son who fell victim to gun violence. The silence was deafening as the crowd on the rainy steps of City Hall listened to her story. Dixon continued, "My son died right in my arms and we never got any justice. When Life Camp heard what happened to my son, they supported me and offered me a position." Headed by Erica Ford's South Jamaica's Love Ignites Fire through Education, Life Camp is just one of the dozens of crisis management organizations that exist throughout the five boroughs. Their mission is to interrupt the violence and diffuse the situation before the NYPD has to get involved.
June commences the summer season, which usually sparks a rise in gun violence. In 2013, New York became the first state to delegate a month for gun violence. CEO of Gangstas Making Astronomical Community Change, an activist group part of the Gun Violence Awareness Month task force, Shanduke McPhatter led the news conference, which took place May 31. He stressed the importance of recognizing the work that these grassroots organizations are doing in their communities. "Men and women are putting their lives on the line every day, but we are being overshadowed by the NYPD."
Saturday, June 2, again hundreds of community members joined dozens of organizations, who gathered to march across the Brooklyn Bridge to a rally in Manhattan's Foley Square. The marchers were led by a white casket, which McPhatter (who lost a brother to gun violence) and Ford say represent victims of shootings. The visual reminder often leads to onlookers asking what's going on, and the answers have them giving sympathetic nods, positive comments and queries as to what can be done.
McPhatter stated, "We have to use alternatives to violence to solve problems in the community. We have been taught to use guns as a method to resolve conflict, and so gun violence ravages our community. We have been teaching alternatives on how to deal with conflict with one another. Every summer we want to see our youth working and successful. A young person with a job is much more likely to be successful than one who does not."
Thursday, June 7, students, advocates and elected officials rallied on the steps of City Hall in support of the city's Summer Youth Employment Program to call for its expansion in the budget. Council Members Debi Rose, Jumaane D. Williams and other electeds joined the Campaign for Summer Jobs, the Community Service Society of New York and a coalition of high school students and advocacy groups calling for an SYEP expansion in the FY19 Budget.
Williams said that the program does not currently have the capacity for universal placement. SYEP currently provides six weeks of summer employment to 70,000 youth aged 14-24 around the five boroughs. SYEP also provides workshops on job readiness, career exploration, financial literacy and opportunities to continue education and social growth.