Specialized Prejudice: Protest as Mayor calls to end specialized high school test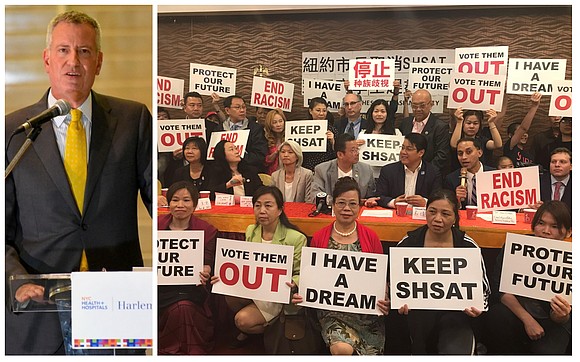 One man, who's on the staff of a school district in Manhattan, anonymously compared the demographics of the NBA to specialized high schools. The man also suggested that Black people just might be more physically capable and dominate the NBA in the same way that Asians have adopted a culture that emphasizes academics.
The man was Asian.
Monday, at the Golden Imperial Palace in Sunset Park, Brooklyn, the Coalition of Asian-Americans for Civil Rights and CoalitionEdu, a network of alumni parents and other supporters of specialized high schools, held a news conference opposing Mayor Bill de Blasio's specialized high school reform.
[De Blasio] took our money instead of helping us out," said CAACR President John Chan through a translator. "Yesterday's policy was the last straw!"
De Blasio's specialized high school reform involves expanding the Discovery program to help more disadvantaged students receive an offer and phasing out the Specialized High School Exam over a three-year period while reserving seats for the top performers at all public middle schools.
"Basically for thousands and thousands of students and neighborhoods all over New York City, the message has been these specialized schools aren't for you," said de Blasio during Monday's announcement of his reform proposal. "That's really what they've been receiving. In lots of neighborhoods all over the city they've been told, in effect, this is not your thing. And the amount of talent that has gone missing because of that is unbelievable, because talent takes many forms. The people are going to be great leaders, great thinkers, great creative presences. It takes many, many forms. But you know what doesn't allow us to capture all of that, and understand all of that? A single standardized test could never, ever capture all that talent."
Under the mayor's reform, the top 7 percent of students from all middle schools would gain admission to one of the specialized high schools and those who didn't attend public school would be admitted through a lottery. The mayor could implement the Discovery program's expansion on his own, but needs to go through the state if he wants the exam eliminated.
According to the mayor, based on current models, 45 percent of offers would go to Black and Latino students, compared to the current 9 percent, 62 percent of offers would go to female students (44 percent currently) and four times more offers would go to Bronx residents.
"So what we are proposing today is not to eliminate bootstraps," said New York City Schools Chancellor Richard Carranza at the announcement. "What we're proposing today is not to eliminate the boots. What we're saying is that there are ways to have multiple pathways to show their brilliance, to show their excellence."
But Asian New Yorkers, some of whom joined a protest outside of City Hall Tuesday, said that they're being ignored as low-income immigrants of color (almost half of the students in Bronx Science and Stuyvesant come from impoverished homes) and their financial sacrifices in favor of paying for test prep are being overlooked.