Specialized Prejudice: Protest as Mayor calls to end specialized high school test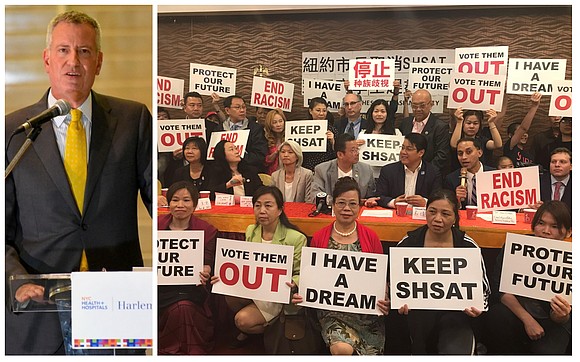 Chan directed his anger toward de Blasio and Brooklyn Borough President Eric Adams, who supports the mayor's reform measures.
"They took money from the Asian community and it didn't help," said Chan through a translator. 'They're taking advantage of us." Chan also said that ever since the shooting involving Chinese-American NYPD Officer Peter Liang, "We became the scapegoat." Several people in attendance said that de Blasio is racist toward Asians. One person in attendance suggested looking up the academic records of de Blasio's son, Dante, who attended Brooklyn Tech.
According to the Department of Education, as of the 2016-17 school year, 75 percent of Stuyvesant High School students were Asian (1 percent Black), 64 percent of Bronx Science students were Asian (2 percent Black) and 61 percent of Brooklyn Technical High School students were Asian (7 percent Black).
In 1971, New York Assemblyman Burton Hecht and New York State Sen. John Calandra, both from the Bronx, collaborated with specialized high school supporters to protect the exam's "elite" status after activists accused the exam of being culturally biased. Known as the Hecht-Calandra Act, the bill mandated that the exam be used as the only way to admittance and also instituted the Discovery program. Through the years, specialized high schools have ignored the Discovery program, but the de Blasio administration slowly revived it.
On top of de Blasio's reform attempts, New York State Assembly Member Charles Barron introduced bill A.10427 in favor of outright eliminating the SHSAT. New York State Assembly Member Inez Dickens supports Barron's bill, but said that although she has her reservations, this could force the city's education officials to take the actions they should have been taking all along.
"My fear, and I told this to the deputy chancellor, is that you're opening up the floodgates and letting all of these minority students in, some of whom might not be prepared," Dickens said. "That's a fear I have conveyed to Barron as well. It's like putting a Band-Aid on a gunshot wound. But there needs to be an immediate electrical shock saying things can be changed. Maybe if we open these doors, they'll be forced to better the schools."
But that doesn't mean all legislators are on board with SHSAT reform.
New York State Assembly Member Ron Kim said he has encountered immigrant and Asian-American families with strong views of the SHSAT who feel excluded from the dialogue about reform. He said that they feel as if they don't matter.
"Unless all communities, including Asian-American families whose children represent a significant portion of test-takers as well as the student bodies in our specialized high schools, are part of the decision-making process, I cannot support A.10427 or any efforts to reform the admissions process," said Kim in a statement.
New York State Gov. Andrew Cuomo suggested that de Blasio's desire to eliminate the SHSAT is tied to mayoral control of schools, firing yet another salvo in the feud between him and the mayor. New York State gubernatorial Candidate Cynthia Nixon supports the measure, stating through a spokesperson that tackling segregation in New York City's school system at any cost is a must. "School segregation is a serious problem across the state, and the step being taken by Assemblyman Barron and the mayor are an important part of the puzzle," said the spokesperson.