Specialized Prejudice: Protest as Mayor calls to end specialized high school test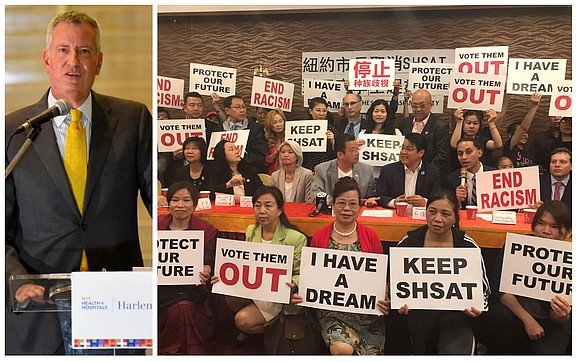 But when it comes to SHSAT, the debate is even more intense on social media outlets such as Facebook and Twitter where alumni of Stuyvesant, Bronx Science and Brooklyn Tech are battling between embracing reform or maintaining their elite status at all costs.
On the Facebook page for the Brooklyn Tech Alumni Foundation, organization president Larry Cary wrote that de Blasio and Carranza are phasing out one form of exclusivity for another.
"This bill not only fails to address the longer-term educational challenges facing too many underrepresented communities, but it disturbingly eliminates equal access to the specialized high schools for youngsters from Catholic, Jewish and Muslim middle schools as well as private secular schools, as its primary admissions system is limited to only students attending public schools," wrote Cary. "While we recognize the importance of increasing diversity in the specialized high schools—and believe there is much that can, and must, be done—bill number A10427A is absolutely the wrong approach."
Petitions have been passed around through social media designed to flood New York State Assembly Member and Education Committee Chair Cathy Nolan's email with wishes to keep the exam.
Dr. Mervin R. Matthew, an instructional associate professor of Psychology at the University of Mississippi (and Bronx Science Class of 1999) said that the SHSAT didn't bother him, but he felt more that it shouldn't be the only source of admission for students.
"I have no problem with using the SHSAT as an admission criterion—it just shouldn't be the only one," said Matthew. "Having taught college courses for 12 years and assisted with them for two years before that, I've become very acquainted with students who thrive in every aspect of the class except for exams. Some have high test anxiety, something that would certainly be in play when the exam is the sole criterion, and other do well with the written portion of their exams but not with multiple choice."
In a statement addressed to alums and pro-SHSAT advocates, the Coalition of Specialized High Schools announced its opposition to the elimination of the exam and called de Blasio's approach misguided.
"Once again, a long-term, multifaceted approach is needed on this critical issue, not a complicated, unworkable approach introduced in the dead of night and which potentially does not put young people in a position to succeed," read the statement. "The goal must be to address the systematic, long-term educational challenges facing far too many young people in underrepresented communities and help to ensure that all New York City school children have access to the high-quality educational opportunities they deserve."
But other alums believe that those who attended specialized high schools shouldn't get on their high horse.
"If we want to be real, I used to see the records of students when I worked in the guidance counselors' office as a 12th-grader," said Jason Clinkscales, a writer and editor who graduated from Bronx Science in 2000. "A whole lot of the defenders in this debate wasted resources that could have gone to kids elsewhere that would have served Bronx Science much, much better. Believe me. We did really well on a test one Saturday morning in October, but that doesn't make us as gifted or brilliant or special as it did lucky and well-versed in the politics of a broken system. We should think beyond our 14-18-year-old egos and wonder about those who didn't get that break."