Talking SCHOP! Harlem Hops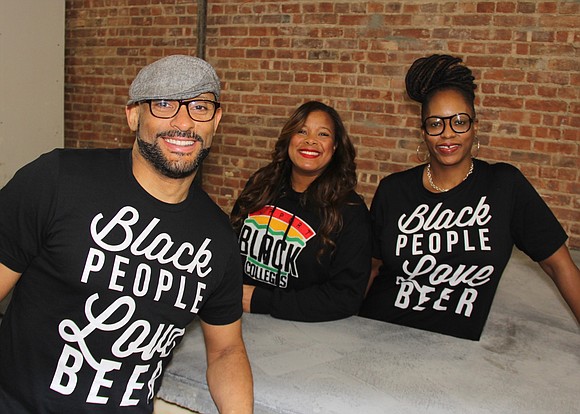 Opening this Saturday, June 9, 2018, is the newest soon-to-be hot beer spot, Harlem Hops (@HarlemHops, 2268 Adam Clayton Powell Blvd., www.harlemhops.com). It will be Harlem's newest destination for "beer, booze, bites and beats" welcoming patrons for casual dining, socializing and exploring an accessible collection of innovative, small batch beers.
Harlem Hops is the realization of years of hard work and collaboration by three friends, now business partners, Kim Harris, Stacey Lee and Kevin Duane Bradford. Together they have combined their experience in restaurant management, event production and community service with a lifelong passion for beer.
Kim Harris (now my "cousin") is Harlem born and bred, a devout foodie and craft beer connoisseur. It is her restaurant consulting experience that inspired the Harlem Hops concept. Lee, from Atlanta, brings her 15-plus years of marketing and management experience (plus her ebullient smile) and Bradford, a Detroit transplant and math teacher by day, is the beer curator, carefully selecting the best to feature at Harlem Hops. Together they share a motto: "There's no reason why you shouldn't drink GOOD beer!"
The Harlem Hops mission is to offer a thoughtfully curated selection of beer appealing both to the casual sipper and to the most discerning beer geek. The taps at Harlem Hops will flow with some of the freshest local craft beers available, from small batch, family owned brewers to leading area breweries. From the brightest, hoppiest IPA to the creamiest, malty porter and every flavor in between, Harlem Hops will pour a creative selection sure to satisfy.
As Black business owners and operators, the Harlem Hops team is especially pleased to feature the growing number of brewers of color on the Harlem Hops beer list. From superstars such as Brooklyn Brewery's Garrett Oliver and Harlem Brewing Company's Celeste Beatty, to new entries from New York, Ohio, Atlanta and elsewhere, Black beer culture is becoming an integral part of America's craft beer community. Harlem Hops will celebrate this diversity by sharing, pouring and advocating for these great beers made by African-American brewers.
The menu at Harlem Hops is elevated pub fare, perfect for a light snack or a filling meal. Guests can nibble on a Bavarian pretzel with signature spicy beer mustard or beer cheese (I vote beer cheese!), signature brats, including spicy chicken, Italian tofu, merguez and traditional Polish sausage. I am looking out for their Poppin' Patties with flavors such as spicy, cheesy beef and plantain, sausage and peppers, mango chicken and certainly the seafood.
Congratulations Harlem Hops and welcome to the 'hood!
Happy eating and thanks for reading!
Kysha Harris is a food writer and editor, culinary producer, consultant and owner of SCHOP!, a personalized food service in NYC for more than 15 years. Follow her on Twitter and Instagram, @SCHOPgirl, on Facebook, /SCHOPnyc, and her blog, www.talkingSCHOP.wordpress.com. Questions? Comments? Requests? Feedback? Invitations! Email AmNewsFOOD at AmNewsFOOD@SCHOPnyc.com. Follow us on Instagram, Twitter and Facebook @NYAmNewsFOOD and tag us with #SoAmNewsFOOD with your food finds!