George Coleman, J.D Allen,King of Stage,' Asinamali
Ron Scott | 6/14/2018, 11:55 a.m.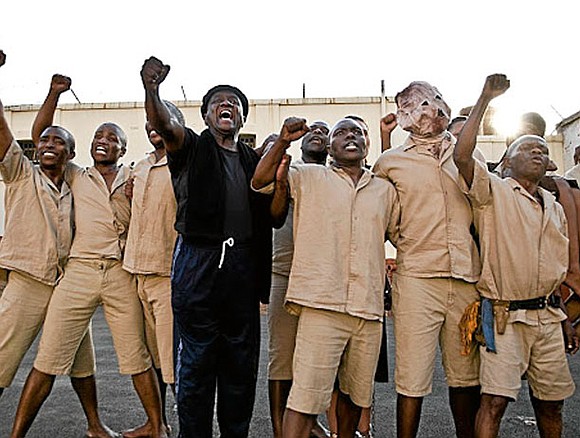 The native New Yorkers who began their theater artist careers in New York City, always respected and admired King, and were compelled to make a film because of their strong belief that his life, his works and his career should be documented in a film.
What differentiates "King of Stage" from most documentaries is the format. The partners Smith and McCants decided to have an in-depth interview with King as opposed to interviewing many of his colleagues from directors to actors and friends. Although what brings joyful surprise to the film are the pop-up interviews with his celebrity colleagues and close friends, who were there from the beginning.
Not to mention a jammin' soundtrack. King of Stage at 7 p.m. and 9 p.m., doors open at 6:30 p.m. For this special screening. tickets are $20 at the box office. No online sales and reservations are not required.
The United States premiere screening of "Asinamali," written and directed by celebrated South African cultural activist Mbongeni Ngema, was recently presented by New Heritage Theatre and the Harlem Arts Alliance as part of BAMcinematek (Brooklyn Academy of Music) series, FilmAfrica 2018.
In 1986 "Asinamali," the play produced by New Heritage Theatre, had its world premiere in Harlem at the Roger Furman Theater on 125th Street at Lenox Avenue. The five young South African actors performed to sold out audiences throughout the play's five-week run, to critical acclaim.
Although the theater wasn't large enough to accommodate the crowds that patiently awaited entrance, the staff scurried around placing folding chairs in every cranny. As a result, some audience members were sitting so close to the actors they could inhale the anxiety of apartheid. I saw the play at least four times. As a result of Ngema's courage to write such a play of apartheid resistance, he spent some time in jail. He is also the playwright, director, and music producer of the Tony-nominated Broadway play and film "Sarafina!."
"Asinamali," which means "We have no money," is based on the rent strikes in South Africa. Although the government knew the renters couldn't afford a rent increase under any circumstances, it was implemented anyway with grave consequences—a rebellion in which lives were lost and many were imprisoned.
After "Asinamali's" regional and national tour in 1987, Harry Belafonte, Paul Simon, Miriam Makeba, Hamilton Fish and Ndumu Ndlovu presented this exciting play on Broadway.
The film "Asinamali," with Danica de la Rey and Boitumelo Shisana, is based on Tony-nominated writer/director Ngema's Broadway play (he also stars in this adaption).
This volatile political musical takes place in an apartheid-era prison, where Black inmates relate their stories of horrendous persecution and unrelenting rebellion through theater, song and dance.
The brutality and total abuse of the inmates by the prison guards surpasses their acting abilities, revealing an emotional truth that ignites angry yells and compassionate sighs from the audience. If you don't fill a soda cup with your tears, your heart will bleed for these characters, whose atrocious plight reflected that of the ancestors during slavery and the freedom fighters during segregation. "Asinamali" motivates you to raise your voice for freedom when in the depth of your revolutionary being the gun is the way. It is the reality of the freedom struggle that continues in South Africa and the United States.
The film's music serves as a soothing relief from the habitual assault on human life from the prisoner's oppressors. The music is a healing verb that culminates in a striking performance by the prisoners as their oppressors' cheer, not realizing their smiles, song and dance are only a masquerade to conceal their anger, pain and defiance.
For "Asinamali" there is only one option: See it. The film is one of the most important to come out of South Africa that underscores the intense reality of apartheid while adding a voice to the continued fight for freedom and resistance around the world.