Golden State wins another chip, but one question still remains
Vincent Davis | 6/14/2018, 12:20 p.m.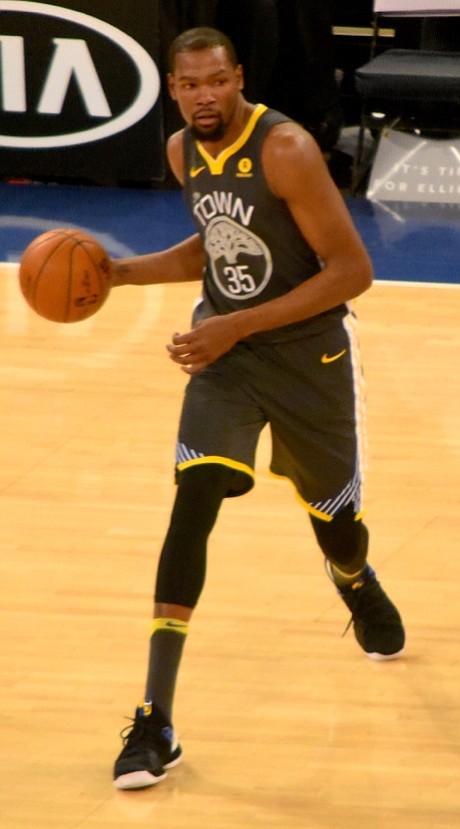 There was 4:03 left on the clock. Down 102-77, Tyron Lue, head coach of the Cleveland Cavaliers, sat LeBron James, continuously deemed the best player of our generation.
With the Cavs down 25, seating James, who had 23 points, eight assists and seven rebounds, was conceding defeat, throwing in the towel, hoisting up a white flag.
"Sometimes you can give everything you got and still come up short," said Lue.
James, while receiving a standing ovation, gave some dap to Kevin Durant, Draymond Green, Andre Iguadala, Klay Thompson and Stephen Curry, the Golden State Warriors out there on the floor, as well as to his teammates and to some Cavs' staff before he took his seat to watch Golden State prepare to receive the Larry O'Brien Trophy and Durant prepare to receive the Bill Russell MVP Award.
James and Cleveland were just "kinda formidable" against the Warriors in this season's championship. They began to look like an actual fourth seeded Eastern Conference team instead of a worthy Eastern Conference finalist.
The Cavs had an opportunity to win Game 1, a road game, the J.R. Smith misstep that led to them losing in overtime, Golden State's only overtime game this entire postseason, and Game 3 at home, but they couldn't make it happen.
They were swept in four games, losing the final game on their floor, in their building, in the presence of all of their fans. The Warriors squashed any semblance of Cleveland's hope of extending this series to a Game 5. It wasn't happening.
"To win in a sweep feels pretty good," said Durant, who contributed 20 points, 12 rebounds and 10 assists to the win, his first ever postseason triple double just one game after scoring a game-high 43 points, 13 rebounds, a double-double.
Curry, the Warriors' deep three-ball shooter, 41.5 percent in the series, dropped 20 of his points in the first half, 37 on the night. And add six rebounds, four assists, three blocks and three steals to that.
"It's a great feeling to be back here," noted Curry, whose team has won three of the NBA's past four championships.
During the four Finals games against the Cavs, Curry averaged 27.5 points, 6.8 assists and six rebounds per game.
Durant, named Finals' MVP for the second straight year, averaged 28.8 points, 10.8 rebounds, 7.5 assists and 2.3 blocks, 40.9 percent from three.
"KD's been amazing these last two years, especially in the Finals," said Curry. "And so deserving of back-to-back Finals MVPs."
Golden State also received solid, timely play from Thompson and Green, offensively and defensively. Key rebounds, key blocks, assists, shots and put-backs, plus the return of Andre Iguadala, who missed six playoff games because of injury, four semifinals and two finals, returning in Game 3 and Game 4, scoring eight points, two rebounds (22 minutes) and 11 points, two rebounds (23 minutes) off the bench in his return.
The Warriors also benefited from their role players. JuVale McGhee in the starting lineup, and Shaun Livingston off the bench. In Game 3, McGhee went 6-for-6, 12 points in 18 minutes; 5-for-5, 10 points in 15 minutes for Livingston.
"We've got a lot of talent," said Warriors' head coach Steve Kerr. "And we had more talent than they did, and talent wins in this league."
Defensively, Golden State improved game by game. After allowing Cleveland 114 points in Game 1, they decreased that number to 103 in Game 2, 102 in Game 3 and a lowly 85 in Game 4, the last two games in Cleveland. The score of 85 was the Cavs' second lowest score in their 22 postseason games, a 108-85 blowout for Golden State, the defending champions, but one question will always remain.
Down three games to two, would Golden State have beaten the Houston Rockets, the best team in basketball, in Game 6 and Game 7 if Chris Paul hadn't gotten hurt in the last minute of Game 5 of the Western Conference Finals?