How to get a good night's rest while traveling
MEGAN PINCKNEY | 6/14/2018, 12:09 p.m.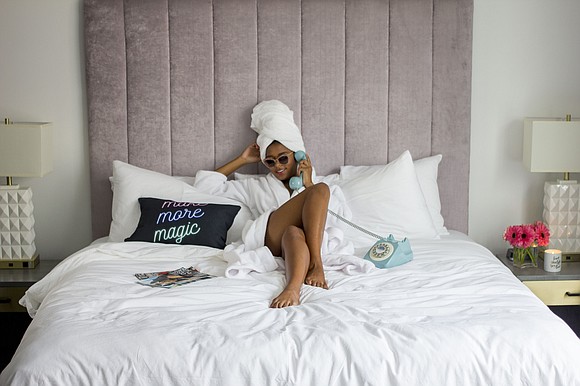 Getting a good night's rest is hard enough when we are in the comforts of our own homes. So, getting a good night's rest while traveling can seem nearly impossible. The truth is there are so many factors that play into how well you sleep, and personal health is one of them, but there are a few general things you can do to ensure that you will get the best possible sleep while on your next trip.
The first thing you can do to ensure that you will have a good night's rest is set the room temperature. Studies show that sleeping in a room with a temperature between 60 and 67 degrees Fahrenheit is ideal. Those figures might sound cooler than you think is necessary, but those conditions allow the body to stay relaxed through the night as body temperature rises. Specialists also recommend adding an extra comforter, or heavy blanket, to the bed to provide a little extra "weight" for such cool conditions. Most hotel rooms come with an extra blanket stored in the closet, but you can always ask housekeeping to bring one if there isn't. To ensure that my hotel room is ready for me to sleep, I set the temperature before I leave the hotel for dinner, for instance. That way the room is already cool when I return, and I do not have to wait for the temperature to change. I can simply crawl into bed.
The second thing you should do to ensure that you get a good night's rest while traveling is eliminating all light in your room. Most hotel rooms come with blackout curtains to help. If need be, use decorative pillows to block out light that shines in through small openings. Also, be sure to turn out the lights in the bathroom and turn off the TV. If you really have a tough time falling asleep, or going back to sleep if you wake up in the middle of the night, eliminate even the slightest trace of light. That might include using a towel to block the light peeking through the crack of the bedroom door, or even using articles of clothing to drape over the light coming from the bedside clock. If you are trying to determine if your room is dark enough, all you have to do is hold your hand up about 12 inches from your face. If you can see it, there's too much light. If you can't see it, your room is probably dark enough.
One of the most important things you can do for yourself before bed is "unplug." Sure, that's much easier said than done, but research shows that the lights from our phones and laptop screens activate our brains and make it harder to wind down. To ensure that you will get a good night's rest, it's been said that you should unplug an entire hour before bedtime. However, if an entire hour is not possible, I recommend unplugging right before you take a shower for the night. That way, once you're in the shower, you can begin transitioning to night-mode and your brain can decompress accordingly.