Misty Copeland lights up Met stage during ABT's season
Zita Allen | 6/14/2018, 4:40 p.m.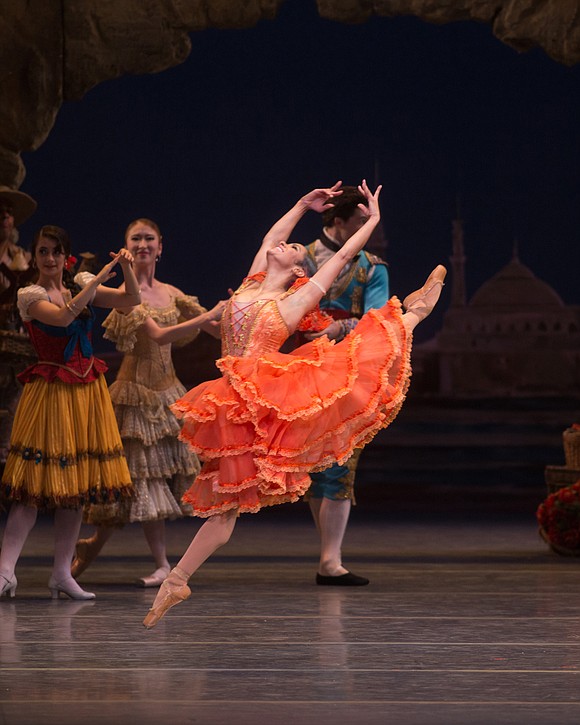 Chuckling when told she needs to be called Wonder Woman, Copeland said, "I was talking with my mother-in-law a few days ago and she was like, 'I don't know very many people who can go from the U.N. straight to do a Drake video.'" She was referring to the 2018 Diane von Furstenberg Awards celebrating women who are making a difference, such as Supreme Court Justice Sonia Sotamayor and Copeland.
Copeland said she is donating her $50,000 award from the Diller-von Furstenberg Family Foundation to the Boys & Girls Clubs of America, among others. "I came from an underprivileged community in Southern California and found among other organizations, ballet in my local Boys & Girls Clubs," she said. She added that this whirlwind is "absolutely insane."
The Drake music video released a couple of weeks ago came as a surprise. "When he came to us with the idea, I had just been on a panel discussion and somebody asked me if I would ever do a music video again," she said. "I was like, 'No, Prince is Prince and I don't think I would ever do another music video after that.'"
Well, literally, a week later Drake reached out and when he explained the message, the idea of celebrating women, that won her over. Besides, Copeland is a "legit Drake fan." "I've been a huge fan of Drakes for years for real," she said. "I think he's an incredible lyricist."
Yet, she doesn't hesitate to remind everyone that at the heart of this whirlwind is her love of and dedication to ballet and the desire to do all in her power to increase diversity in what has heretofore been a predominantly white world. In fact, during her recent Under Armour launch, Copeland invited a diverse array of ABT dancers to join her and show off her new line. One of them was another young African-American ballerina in ABT, Erica Lall.
"I was telling the dancers at ABT that I want to include them in every opportunity that I can because I feel like what I'm experiencing, the success, is all of our success," said Copeland. "We're all working toward a similar thing and it's just amazing that ballet should be recognized. So, I got to select a very diverse group of people to join me for the launch."
Speaking of Lall, Copeland said she first met the current member of ABT's corps de ballet years ago while teaching a master class in California. Lall later received the first scholarship from ABT's Project Plié initiative and joined the company in 2016. "It's so wonderful watching her grow and mature and to have another Black woman in the company," Copeland said.
Asked how she feels things are moving on the diversity front, Copeland said, "I definitely feel hopeful, but there is nothing that has happened that makes me stop and sit back and say, 'Oh, my work here is done.' I feel like this is the time to really start pushing and to keep the conversation going and to keep it relevant. I try to bring it to every conversation that I have and every opportunity and platform. The work will never end. It certainly doesn't end with me, just as racism didn't end with President Barack Obama. I think that we have to keep pushing."
For more information, visit www.abt.org.