Namel Norris, co-founder of anti-gun violence organization 4 Wheel City
KYANA HARRIS | 6/14/2018, 10:43 a.m.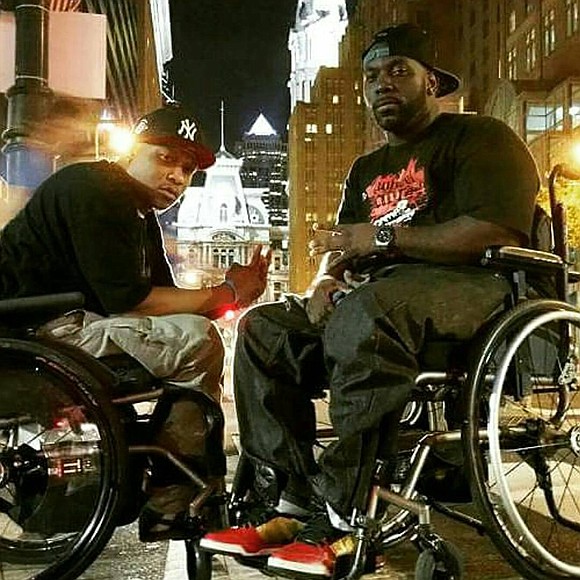 In the wake of the recent string of mass school shootings throughout the country, a national debate on gun control has dominated conversations. Despite Mayor de Blasio's SAFE Act being enforced by the NYPD, there are other individuals on the ground spreading the word and inspiring citizens to stay above gun violence. Namel "TapWaterz" Norris is the co-founder of entertainment organization 4 Wheel City.
"4 Wheel City was an idea to give people with disabilities a voice," said Norris. He founded the organization in 2006 with his partner Ricardo "Rickfire" Velasquez. Although they are from the same neighborhood, they had never crossed paths. Both men are wheelchair bound because of gun violence, which gave them a reason to come together. Norris was accidentally shot at a family party in 1999 when his cousin was playing with a gun. He is now paralyzed from the neck down.
When they first began the movement, Norris said the awareness of people with disabilities wasn't what it is today. "The conversation around disability is more mainstream than when we first started," he explained. He said at the time, New York City was still very much inaccessible to the disabled. When 4 Wheel City used their platform to enact change, people started to get involved. The organization started getting invitations to speak at local schools about the consequences of gun violence. That is where the duo first introduced their music. Their first song for the movement, "Welcome 2 Reality," also became the name of their youth program, which combines a traditional lecture series with motivational rap. "As we spoke our truth through music, we sparked something and called attention to a lack of accessibility in the city in addition to the gun violence."
The Welcome 2 Reality program gives students the opportunity to hear about the consequences of gun violence from a pair of men who were injured as unarmed victims. Instead of being looked at as someone to pity, the rap duo wanted to showcase something more positive. "We're accomplishing despite our injuries," Norris said when describing the speaking engagements and performance opportunities they've been afforded.
During one particular session, which happened to be the anniversary of Tupac's death, they premiered the video for "Welcome 2 Reality." Afterward, there was an open discussion with middle school students. Once they opened it up to teachers, security guards and custodians, it created a safe space for people of all ages to be heard. "I wonder if these people ever even knew they shared these experiences. Everyone was on the same level," Norris recounted.
Hoping students will be able to weigh options and consider consequences, Norris encourages students to choose wisely. "It's hard for someone to see past what they wanna do. They're not thinking about the guy they might accidentally put in a wheelchair for life. We want them to consider their other options," he related. Since 2007 when the organization first began, gun violence in New York has decreased. According to NYPD crime statistics, the number of murders has gone from 496 in 2007 to 292 as of last year.