Odell Beckham Jr.'s impending contract remains a hot button issue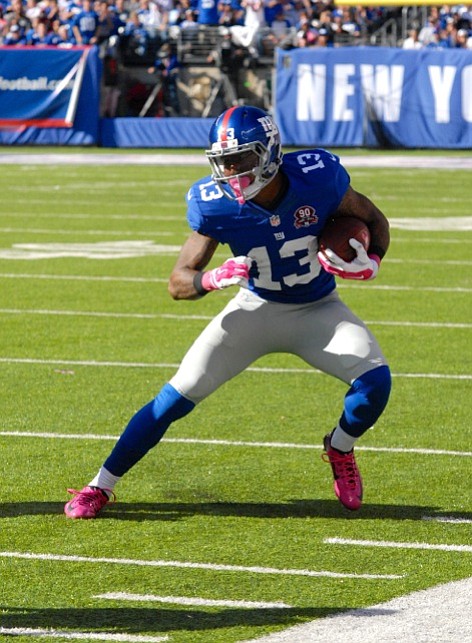 Odell Beckham Jr. reported to the Giants' mandatory minicamp Tuesday at the team's practice facility in East Rutherford, N.J., roughly seven weeks before the start of training camp. His presence at the sessions is significant given that the 25-year-old wide receiver is coming off a serious injury, breaking his ankle against the Los Angeles Chargers Oct. 8 in Week 5, sidelining him for the final 11 games.
Moreover, Beckham's appearance mitigated the narrative he would purposely and strategically cause a stir as the days move toward the beginning of the season. He is pursuing a lucrative long-term deal from the Giants entering the final year of his four-year rookie contract that will pay him $8.459 million. Beckham is purportedly looking for a deal with an average annual salary of $20 million per season, which would place him in the rarefied air breathed by franchise quarterbacks.
What the Giants certainly want to avoid is discord and diverted focus after arguably the most disastrous season in the organization's history. They finished 3-13, the second worst record in the NFL behind the 0-16 Cleveland Browns. A healthy and happy Beckham is vital to the Giants being competitive, or merely respectable, in the upcoming season.
Tuesday, he ran routes and by most accounts displayed encouraging signs that he should be back at top form by the opening of the regular season, when the Giants face the Jacksonville Jaguars on the road Sept. 9. As expected, Giants first-year head coach Pat Shurmur was measured in his responses regarding Beckham's contract status.
"I've said it before and I'll say it again, I look at a player that loves football," said Shurmur. "He's out there right now doing his thing and he wants to be here and as the coach and the player, that's what we talk about."
The coach later expounded on creating a symbiotic relationship with the two-time Second Team All Pro. "What I'm concerned about is my relationship with him and him learning as much as he can through this offseason, so that when we get going he is ready to go," said Shurmur.
He continued, "Then my job as the coach, and our job as coaches, is to get him trained up and put him on the field. That's what we worry about. This isn't the first time in the NFL we've talked about a player and a contract. We just keep moving, keep developing our relationship within what is going on, and then we move forward and that's where it's at."
That's an idealistic but achievable mindset Shurmur has taken. But there is little doubt it hinges on the Giants showing Beckham the money.