Striking a 'Pose' at the Tonys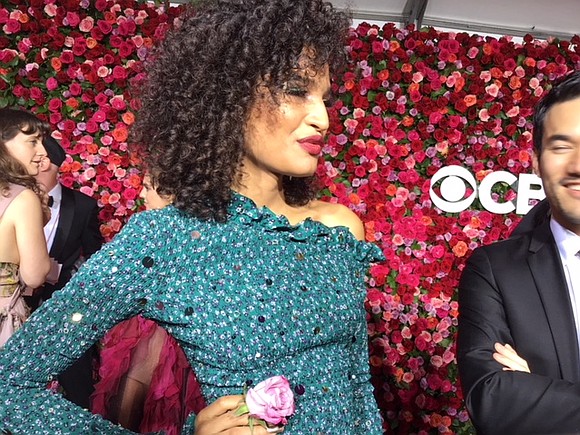 Fashion designer Joseph Altuzarra walked actress Indya Moore, from the upcoming show "Pose," down the Tony carpet. She was dressed in an aqua green dress, her left shoulder showing. At first glance the design looked simple—demure even—but the details of carefully placed decals made it a stunner.
"We actually met today," the designer said. "I was traveling and I actually went to the premiere of Indya's show 'Pose' and I loved it so much. I thought she was so fantastic and luminous and intriguing, and I reached out pretty much that night. I didn't really know what was going to come of it, but Indya was game."
Moore seemed to be a satisfied customer, to say the least.
"It just reminds me of, like, a gnome or an elf or something mystical," she said.
Altuzarra stayed neutral when asked which show he was rooting for, but he stressed his love of the theater.
"It's just such a happy and celebratory evening," he said. "Just being able to see a number from each show is really what I'm looking forward to."
"I'm so here for it," Moore said. "And this is my first awards show."
"This is your first time walking the red carpet?" a neighboring reporter asked her.
"Oh no, no, no," Moore replied.
"She's a pro," Altuzarra said.
Indya Moore as a transgender actress has expressed her gratitude for continuing to explore

her identity in FX's "Pose" and has said the experience has "basically been a learning experience."
"And it's been good for me," she added.
Moore plays streetwalker Angel, who falls in love with both her client Stan (Evan Peters) and New York City's ballroom scene—something the "Pose" star can relate to. "I am a Black person, of non-gender conformity, and I am proud of who I am," she said.