Apology unaccepted: Waffle House protests set to continue
Jodi Sterling | 6/21/2018, 12:22 p.m.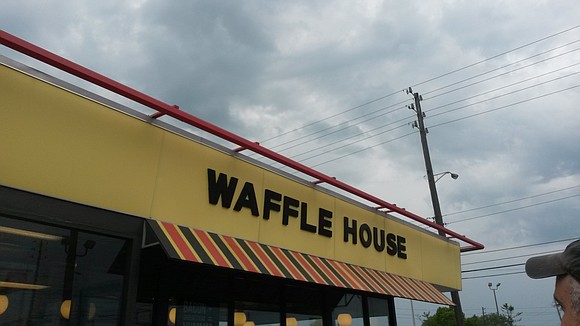 Last Friday, two victims from the Waffle House arrests, various civil rights organizations and a former "Real Housewives of Atlanta" star protested at the 24-hour breakfast food chain headquarters in Norcross, Ga. A number of organizations, including Women's March and National Black Justice Coalition, along with civil rights leaders advocated for people to avoid purchasing from Waffle House restaurants because of the police brutality, discrimination and sexual abuse toward Chikesia Clemons and Anthony Wall. The objectives of the protests were to have the charges against Clemons and Wall dropped; a public apology issued by Waffle House to both victims; and improvement in the corporation's professional development.
April 22, a video was released on social media that showed Clemons, 25, being assaulted by three white police officers at a Waffle House restaurant in Saraland, Ala., with her bare chest exposed as she was wrestled to the ground. She was charged with disorderly conduct. The police claimed that the employees called because she appeared drunk.
On the same day Clemons was arrested, Travis Reinking, 29, a white male from Morton, Ill., opened fire at a Waffle House in Tennessee with an AR-15, killing four people and injuring two others. Reinking was arrested the next day and charged with multiple accounts of criminal homicide.
May 8, a video leaked showing Anthony Wall, 22, being arrested outside of a Waffle House in Warsaw, N.C. During the arrest, the police officer choked Wall while slamming him against the restaurant window and street pavement. Wall is a member of the LGBT community.
June 12, the Fort Walton Beach Police Department released body camera footage illustrating an incident that occurred May 2 in which a Black couple was handcuffed because of a dispute over a food bill at a Waffle House in Florida.
Although the Waffle House CEO issued an apology to the Black couple after the recent release of the body cam video, the food corporation continues to side with the police regarding the case of Clemons and Wall. "We should not be generous…this is them attempting to be strategic," said David J. Johns, the executive director of the National Black Justice Coalition. "The fight is just beginning. The Waffle House is thinking about doing the bare minimum." In response to the apology, Johns additionally noted that it was "selfish and self-motivated," and Tamika Danielle Mallory, co-president of the Women's March, sited it as "deplorable."
According to Mallory, organizing for a Black woman is one of the most difficult jobs. "There is a blatant attempt to ignore the Black woman's experience," she noted. Although Mallory was impressed by the support of civil rights activists, celebrities and various supporters, she noted how some groups that particularly stand for Black women were not present for Clemons at all.
"It's rough for me," said Clemons. "I can't return back to my normal life. I'm dealing with humiliation and embarrassment." As a mother of a 6-year-old daughter, Clemons has been busy with organizing protests. She hopes that the charges filed against her will be dropped; in addition, alongside Anthony Hall, she wants the movement to keep going.
NAACP Legal Defense Fund President and Director-Counsel Sherrilyn Ifil stated, "Waffle House must conduct an extensive review and overhaul of its policies to ensure that employees do not needlessly subject customers of color to police contact and brutality."
Along with the protests, Johns advises young people to use technology to hold discriminatory companies accountable, engage in electoral politics where minorities are underrepresented and participate in intersectional social justice work. According to Johns, who feels as if he could have been in Wall's shoes, "History is continuing."