City Hall holds hearing on discriminatory gang policing practices
Matthew Brown | 6/21/2018, 1:28 p.m.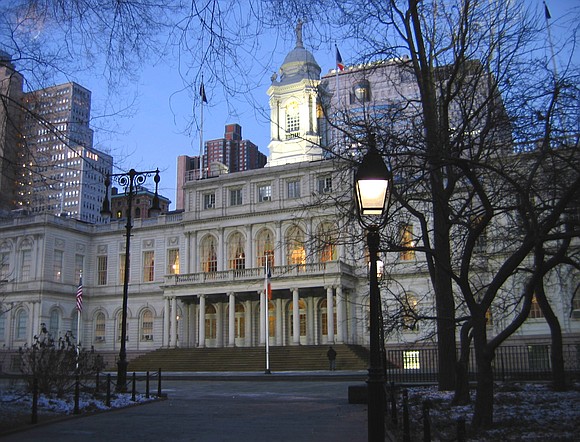 The New York City Council Committee on Public Safety held a public hearing regarding the New York Police Department's gang policing tactics Tuesday, June 13, at City Hall. At issue were the NYPD's latest targeting and arresting techniques, namely the force's maintenance of a "gang database" and police raids in minority communities. Activists and academics argue these practices are a continuation of the racially discriminatory profiling practices that were characteristic of stop-and-frisk and earlier eras.
Central to the NYPD's gang policing practices is the usage of a secret gang database. Between 2001 and August 2013, the NYPD added 21,357 individuals to this database. Only 1 percent of these individuals were white; 48 percent were Black and 44 percent were Latino, a contrast made sharper when compared to New York City's demographics: 33 percent white, 26 percent Black and 26 percent Hispanic.
What's more, the NYPD's criteria for inclusion in this gang database have been described by activists as arbitrary and indiscriminate. According to an article by K. Babe Howell, a professor at CUNY School of Law, an individual may be entered into the database if they either admit to membership during debriefing, are identified as a gang member by two independent sources or meet any two of the following criteria: spends time in a "known gang location"; has "scars/tattoos associated with gangs"; has "gang related documents"; wears "colors associated with gangs"; has "association with known gang members"; and uses "hand signs associated with gangs." Howell also noted that none of these methods require any arrest or criminal conduct on the behalf of the individual entered into the database. Thus, individuals residing in a "known gang location," commonly public housing, and who are associated with "gang-affiliated" individuals through family relation or friendship, may be included in the gang database.
When asked about the racial breakdown of the gang database, NYPD Chief of Detectives Dermot Shea said, "The racial breakdown, unfortunately, is extremely disparate, and it almost exactly mirrors our gun violence shooting breakdown in New York City…it's approximately 95 percent people of color…when you look at the shooting violence in New York City, and you look at the individuals on either side of the gun—unfortunately, but it is the reality in New York City—[people of color are] roughly 95 percent…of the individuals getting shot or the individuals arrested for violence."
The inquiry into the NYPD's recent activities recalls the Department's fraught history with stop-and-frisk practices, with activists noting that there has been little change to the NYPD's effectiveness and arrest rates since the database's inception. "This is nothing new—they've been doing these practices for decades. This database is just making it a lot easier for them to collect information and try to justify their raids," said Sheppard "Brother Shepp" McDaniel, an adviser to the Stop The Raids Coalition. "They are trying to use statistics that show a decline in crime as their doing, but any decline in crime rates happened because of the communities that were affected. They're trying to take credit for something they had nothing to do with."