City Hall holds hearing on discriminatory gang policing practices
Matthew Brown | 6/21/2018, 1:28 p.m.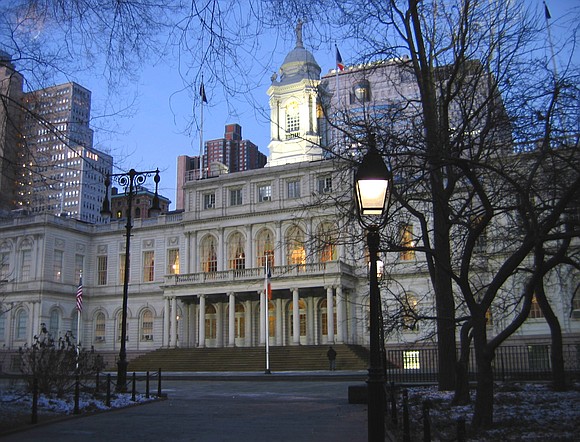 McDaniel, who testified at the hearing as well, felt that the event was a constructive moment to hear from the community, but felt the NYPD's testimony and engagement was lacking. "Many people were left asking, 'Why don't they stay?' If they truly wanted to create solutions they'd stay and have a dialogue with us. Instead, they presented their charts, made their case and left immediately." McDaniel continued that the lackadaisical attendance by Council members was also concerning. "Every member of the Council should be present at this event, as this is a major issue that affects every borough of the city."
Individuals presumed to be gang members face "heightened police surveillance, increased probability of police encounters and, for some, the threat of deportation," according to a letter sent in February to the New York City Council Committee on Public Safety and the Committee on Oversight and Investigations by the NAACP Legal Defense and Educational Fund and the Center for Constitutional Rights. Because the NYPD's gang database operates in secret, individuals are not notified of their inclusion in the database and have no avenue of challenging their inclusion.
The letter continues, "The NYPD's indiscriminate criteria for entry in its gang database can easily serve as a pretext to surveil and monitor communities of color without public oversight."
Marne Lenox, an assistant counsel with the Legal Defense Fund, saw the City Hall hearings as productive but emphasized the need for greater deliberations and transparency. "Overall, the NYPD's testimony raised more questions than it did answers. We are only just scraping into the NYPD's gang policing practices," she stated.
Although there remain too many unknowns for activists and legal advocates to comfortably recommend what should become of the database, other states and cities have already taken action regarding their gang databases. In October 2017, California overhauled the state's gang database, CalGang, to allow for greater transparency and accountability of the entries after the state auditor discovered the database was riddled with errors and basic oversight mechanisms.
One month before California's legislation, the Portland Police Bureau abolished the city's gang database altogether after it was revealed that more than 80 percent of the those in the database were of color in a city that is almost 80 percent white. Currently, the Chicago Police Department is under corresponding criticism from its state and city governments for its gang database, which has been found to be 75 percent Black and 25 percent Hispanic.
The opacity of the gang database and police raids in the city is an issue that extends beyond the NYPD. Raids from the Federal Bureau of Investigation and Immigration and Customs Enforcement agencies have increased in New York City over the past few years, a trend that activists and academics also decry. "There are a number of community organizations concerned about immigrant raids right now, especially undocumented and Muslim groups who have seen a rise in policing of their neighborhoods," said McDaniel.
When asked how advocates and community organizations across the city might respond, McDaniel was unambiguous: "Organizations seeking to combat this must remember that this is about the families. Clearly, these police forces are working together on all levels, we need to do the same."