Community Calendar June 21-June 27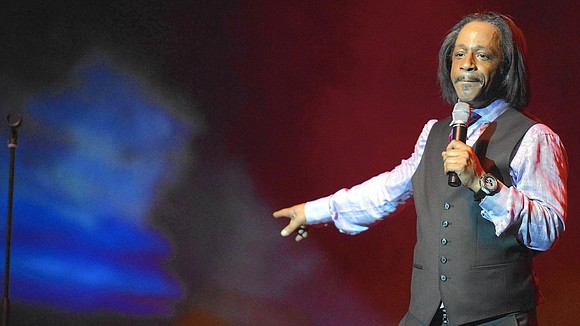 Greetings! On the Black Music Month side, Variety reports a new movie project coming spotlighting Marvin Gaye, produced by Dr. Dre, and Ziggy Marley reportedly has teamed up with Paramount Pictures to produce a Bob Marley biopic on the reggae legend.
Civil rights lawyer (now-ACLU Deputy Legal Director) Jeffrey Robinson joined us in our "Express Yourself" broadcast to discuss his Juneteenth presentation, "Who We Are: A Chronicle of Racism in America," at NYC's Town Hall.
THEATER
"Looking Through the Stained Glass Window" is a one-woman play by Evie Rhodes, acclaimed Black woman novelist turned playwright-director. The production is about trauma, AIDS and the rise of hip-hop. Playroom Theater, 151 W. 46th St., New York, N.Y., between Eighth Avenue and Broadway, June 29 to July 1. Showtime 7:30 p.m. Visit rhodesenterprise @ventbrite.com.
The music of iconic disco diva Donna Summer comes to Broadway in "Summer: The Donna Summer Musical." The performance includes more than 20 well-known Summer hits. Starring Tony Award winner La Chanze, Anana Dubose and newcomer Storm Lever, who portray three different phases of Summer's life and career. Lunt-Fontanne Theatre, 205 W. 46th St., New York, N.Y. Call 212-379-0370 or visit luntfontannetheatre.tickets.com/.
From the creators of "Mama I Want to Sing," Vy Higginsen's Mama Foundation for the Arts proudly announces the brand-new 30th anniversary production of their acclaimed musical, "Let the Music Play…Gospel!" Now playing at the Dempsey Theater in Harlem,127 W. 127th St., between Lenox and Seventh avenues. Tickets are available by calling 212-280-1045 or through OvationTix at Mamafoundation.org. For more information, please visit mamafoundation.org.
"Chicago," the Tony Award-winning, record-breaking hit musical, is celebrating its 21st anniversary on Broadway at the Ambassador Theatre, 219 W.49th St., New York, N.Y. For show information and tickets, call 212-239-6200 or visit telecharge.com.
"Sistas: The Musical," St. Luke's Theatre, 308 W. 46th St. (between Eighth and Ninth avenues), New York, N.Y. Now through June 24, 2018. For information, call 212-239-6200 or visit telecharge.com.
"Little Rock," written and directed by Rajendra Ramoon Maharaj. History called it heroism. They called it high school. The riveting true story of the Little Rock Nine, the first Black students to attend their city's formerly segregated Little Rock Central High School three years after the Brown v. Board of Education Supreme Court decision. Limited run through Sept. 8, 2018, at the Sheen Center for Thought & Culture, 18 Bleecker St., New York, N.Y. Visit littlerockplay.com or sheencenter.org.
JD Lawrence's "Harriet, Rosa & Me" is a thought-provoking, inspiring and witty theatrical presentation written and directed by the NAACP Legacy Award recipient, 8 p.m. at Paramount Hudson Valley Theater,1008 Brown St., Peekskill, N.Y. Tickets are available at the door and on the website http://paramounthudsonvalley.com/events/black-girls.
MUSIC

Blue Note Jazz Festival at Sony Hall, 235 W. 46th Street, New York, N.Y. For information on the full artist lineup, call 212-997-5123 or visit www.sonyhall.com.
Jill Scott, Wednesday, June 27, at 8 p.m., New Jersey Performing Arts Center, 1 Center St., Newark, N.J. For information, visit ticketmaster.com.
"The Miseducation of Lauryn Hill" 20th Anniversary Tour, Sunday, July 15, at 6 p.m., Northwell Health Jones Beach Theater, 895 Bay Parkway, Wantagh, N.Y. For information, visit ticketmaster.com.