Ethnic cleansing, aka gentrification, debate rages
DENVER REGINE LARK | 6/21/2018, midnight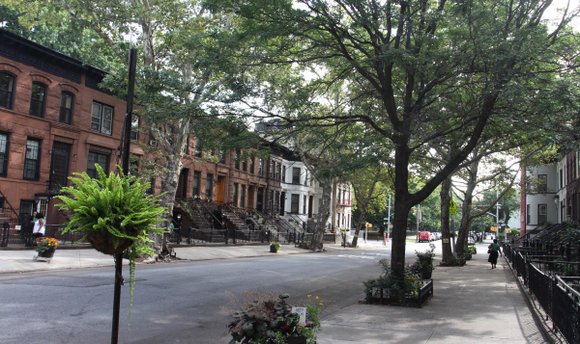 Ethnic cleansing, an international human rights violation, is rapidly increasing. Omowale Clay, a member of the December 12th Movement, said, "Ethnic cleansing has always been the United States government tool to steal, murder and exploit us in a systematic way."
Clay added that the mass expulsion of members of an unwanted ethnic or religious group in a society is now happening in one of the most diverse cities in the world, New York City. In this case, it is the mass expulsion of Black people and other races.
All over the world people, know of the 45th president's 2016 campaign slogan: "Make America Great Again."
This slogan, according to Roger Wareham, a New York City attorney refers to "anything that can maintain the numerical dominance of white people."
Wareham added, "In 2016 he is talking about 1916. Through the disguise of this malicious intent and nature of this act, people continue to be displaced from generational homes for modern, largely white residents."
Many believe and have said, ethnic cleansing, or gentrification, is all about race. Others argue that it is simply economics.
Clay said it is quite simple to understand if one looks at the history of the United States and what it is today. From the removal of Native-Americans to the inhumane practices of slavery, it has all been about moving or taking people from one place to another to gain some form of economic or financial gain.
The process of ethnic cleansing is diversifying New York City as well as other large American cities. However, Clay said that when you look at what is actually going on, rent and mortgages are being increased on people who no longer can afford their homes. Where, he asks, are the people supposed to go?
The already diverse multiracial ecosystem is now overwhelmed with Starbucks-gulping, acai-nibbling extremists, who happen to be of European descent. The local mom-and-pop shops, many generational, are not able to survive with the competition moving in and are being forced to sell their storefronts.
Wareham said that Manhattan and Brooklyn have seen increasing rates of ethnic cleansing within the past 16 years, placing them among the 20 most gentrified areas in the United States. Many Blacks and Hispanics are now being displaced out of their historic enclaves.
According to a 2017 CityLab report, the New York City African-American population declined in approximately 25 neighborhoods from 2000 to 2015. Crown Heights and Bedford-Stuyvesant had some of the highest declines. Only two neighborhoods had populations that were exceptions to the decline, Hunts Point and Brownsville in 2015.
Harlem, the borough where the first thing that pops into someone's minds is "Black, ethnic, history, culture, urban," now ranks 15th overall for the biggest changes in median home value and ethnic cleansing. Brooklyn doesn't fall too far behind ranking No. 7 based on median home value. These outrageous increases in home prices are forcing many homeowners, renters and generational families to leave the neighborhood.   
Landlords have even stooped to using illegal methods to force residents out. One such method is to create inhumane living conditions. Once conditions become horrific that residents leave, landlords and property owners make repairs and increase rents to levels that only the gentrifiers can afford. Clay said it has become harder for Black people to "sustain a neighborhood owned by someone else."