Golden Hoops Tip off gets the summer basketball season started
6/21/2018, 1:29 p.m.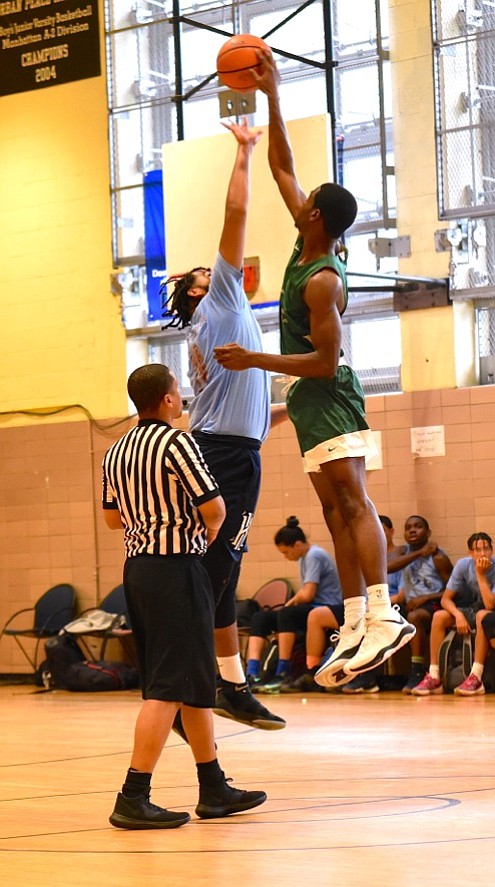 Game Elite, the Bobby Bingo All-stars, Each One Teach One, the SB Mavericks, Compete To Achieve,
Panther Pride, Team Mega and Puerto Rico kicked off the summer basketball tournament season in the annual Golden Hoops Tip Off tournament held at El Faro Beacon facility on East 120th Street in Harlem. George Ball and Marvin McCullough hosts the event. This season is their eighth.
There was some prolific scoring and play by Joshua Johnson: 25 points, 4 assists, 3 steals for Each One and One; by Ontario Miller: 22 points, 8 rebounds and 4 assists for the SB Mavericks; George Varmeh: 21 points, 8 rebounds and 2 key blocks for Panther Pride; by William Kendart: double-double, 19 points, 10 rebounds and 3 steals for Team Mega; and by Jalen Robinson: 20 points, 15 boards double-double and 3 blocks for Each One Teach One. 
The eight elite New York City high school teams advanced through the 10 game schedule to the championship last Thursday won by Team Mega who defeated Compete To Achieve 98-to-91.
Brandon Weston, the game's Most Valuable Player dropped 31 points, the highest total of the tournament with 10 rebounds and 3 assists.  Sammy Davis led Compete To Achieve with 17 points, 18 rebounds and 2 blocks to win the tournament's Sportsman Award.