Lorraine Gordon, Village Vanguard owner, dies at 95
Ron Scott | 6/21/2018, 3:20 p.m.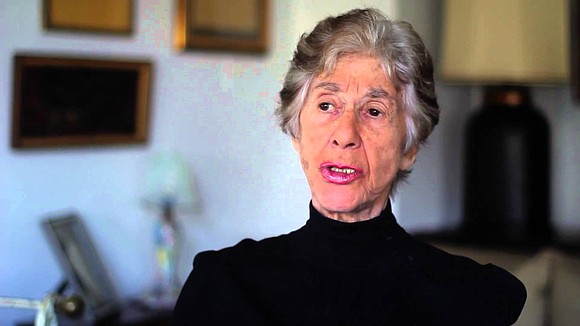 Lorraine Gordon, owner of the iconic Village Vanguard jazz club in New York, and one of the few non-musicians to be named an NEA Jazz Master, died June 9, at Beth Israel Hospital in Manhattan. She was 95 years old.
Her death was caused by complications of a stroke she suffered on Memorial Day as confirmed by Jed Eisenman, the longtime general manager of the club.
In 2006, Gordon co-wrote her memoir with writer Barry Singer, titled "Alive at the Village Vanguard: My Life In and Out of Jazz Time." In 2013, the National Endowment for the Arts honored her with the Jazz Master Award for Jazz Advocacy. Unfortunately, at that time she was too ill to attend the ceremony.
"I don't know what I would have done without jazz," stated Gordon during an interview with Gary Walker of WBGO jazz radio. Her lifetime affair with jazz began in the 1930s as a teenager and it just continued to grow naturally, like an oak tree, until it reached the heavens.
In 1940, she went to Greenwich Village, to 178 Seventh Ave. South, and took her first walk down that long narrow staircase into the Village Vanguard. She was 17 and a member of the Hot Club of Newark, a society of jazz aficionados. That was the beginning of Gordon's never-ending jazz life.
That same year, she met her soon-to-be husband Alfred Lion, a German immigrant, who was the recent co-founder of the then fledgling Blue Note Records. They married in 1942 while Lion was in the Army, stationed in Texas. In Lion's absence she worked at the label and continued with him after his discharge. She pitched in wherever she was needed. She typed, answered the phones and did all the bookkeeping. She noted in her memoir, "And though I didn't know what public relations meant, I did that too."
Gordon noted, "I was captivated by Thelonious Monk. He was an original person." She took the relatively unknown pianist on interviews and drove him around. In the summer of 1948, while trying to promote Monk she met Max Gordon by coincidence on Fire Island. "I accosted Max Gordon," she recalled during an interview on WBGO. "I'm all business. I told him about Thelonious Monk. He was very interested. He said, 'I just happen to have an opening in September.'"
She was thrilled to have Monk booked into the Vanguard. The pianist appeared for a week, but the crowds never came.
"Max was somewhat baffled by that experience," Gordon said. While working with Monk, she and Max Gordon made a connection. After her divorce from Lion, the following year she and Max Gordon were married in 1949.
"My life was nothing but music seven days and nights, and then I married Max and the music continued," she noted in her memoir. "I just kept to what I loved, jazz."
The Vanguard interior remained the same throughout the decades after Max Gordon opened it in Greenwich Village in 1935, a rather small room with seating for 123 people. Originally the club was the place for variety acts, comedians and a beatnik scene for poetry and folk singers during the 1950s. As television came into national popularity those acts were introduced to larger audiences on the small screen, leaving Max Gordon to concentrate on a total jazz venue.