Malone honoree, Dayramir, Barbara Jordan, Green funk
Ron Scott | 6/21/2018, 3:06 p.m.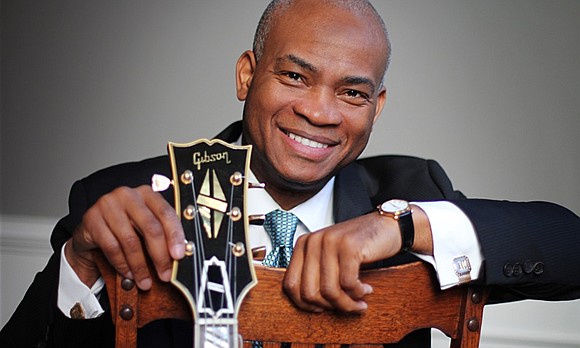 The guitarist Russell Malone, whose pronounced pitched sound has caught the ear of anyone who listens, from New York to Europe, will be honored by Jack Kleinsinger's "Highlights in Jazz."
On June 21, Malone will take the honoree's spotlight at the Borough of Manhattan City College's Tribeca Performing Arts Center in Lower Manhattan at 199 Chambers St., at 8 p.m. Malone follows a long list of honorees, including Lionel Hampton, Roy Haynes, Clark Terry and Kenny Burrell, Malone's mentor.
Malone will be accompanied by his abled quartet of pianist Rick Germanson, bassist Luke Sellick and drummer Willie Jones III. The concert will also include the top precision sounds of saxophonists Houston Person and George Coleman (a sub for Jimmy Heath, who is ill), along with drummer Lewis Nash, vibraphonist Steve Nelson and trumpeter Jeremy Pelt. Malone has also invited another noted guitarist, Gene Bertoncini.
Malone has a swinging band that consistently brings out new material and rearrangements of standard and not so standard tunes that move in another direction with a new kind of hipness that only Malone can bring into effect. Perhaps it has something to do with him being an explorer, crossing genres into blues, gospel, and even country, and he often brings some humor into the package, such as his recording of "The Odd Couple." He has recorded 14 albums as a leader and is the go-to guitarist when master musicians are looking for a creative force.
For tickets, visit www.tribecapac.org.
The pianist, composer and arranger Dayramir Gonzalez was a big deal before he arrived in New York from his homeland Cuba. Since that time, he has proved his musical skills in the competitive ocean of the jazz capital of the world on both the jazz and the Latin scenes.
On June 21, Gonzalez will celebrate his latest CD, entitled "The Grand Concourse," which he describes as his journey from Havana to New York to Carnegie Hall. He performs at the Ideal Glass (22 E. Second St.) on Manhattan's Lower East Side.
This concert will feature guests from the album, including Cuban and Grammy Award-winning flutist and composer Oriente Lopez and the jazz songstress Nadia Washington. They will be accompanied, as on the album, by the Cuban-inspired contemporary string ensemble, String Bembe.
Gonzalez appropriately named the CD "The Grand Concourse" based on his experiences and all the various sounds he heard while residing in the Bronx. Two prominent contributors to this CD include his native Cubans, the percussionist Pedrito Martinez and saxophonist Yosvany Terry. It's the sounds of Cuba, the roots of the congas, jazz vocals, a flowing string quartet and the outward imagination of Gonzalez, who continues to surprise.
There are two shows, at 7:30 p.m. and 9:30 p.m. For tickets, visit https://www.eventbrite.com/e/the-grand-concourse-the-journey-from-havana-to-new-york-tickets-.
Barbara Jordan was a strong, powerful voice during her life (Feb. 2, 1936-Jan. 17, 1996). She was the lone Black warrior as the first Black woman in the Texas State Senate. In 1973, she and Andrew Young from Georgia became the first African-American Congresspersons elected from the Deep South since the Reconstruction Era. Jordan served in the House of Representatives from 1973 to 1979.