New York Liberty get much needed home win
Lois Elfman | 6/21/2018, 1:50 p.m.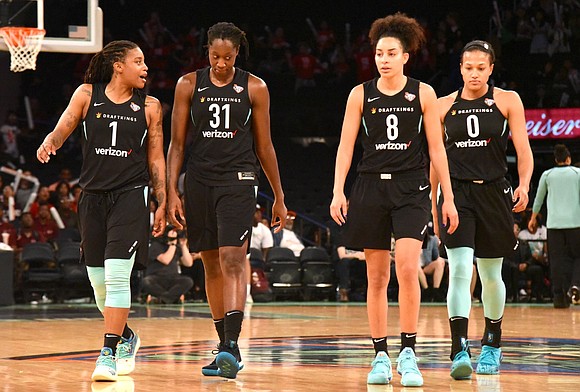 After a rough 78-63 home court loss to the Las Vegas Aces last Wednesday, the New York Liberty headed out on the road in need of a confidence-boosting win. Unfortunately, Saturday night's opponent was the defending WNBA Champion Minnesota Lynx, a team that has also had a rough start to the 2018 season. The Liberty struggled throughout, losing 85-71.
"They had the champion focus tonight," said Liberty forward Tina Charles, who with 12 points was the only Liberty player to score in double figures. "They had a sense of urgency to get back to where they are used to being."
"Effort and boxing out. Not only just boxing out but going to go get rebounds," said Liberty coach Katie Smith. "At the end of the day, it's just finding a way to go get the basketball and then holding onto it."
On the upside, the Liberty finally has 12 healthy players who all saw action in the game against Minnesota; 11 scored. Point guard Bria Hartley continues to play well, with nine points, six assists and two rebounds.
"Tough loss against a very good team. We've got to find a way to bounce back," said guard Shavonte Zellous. "Having everyone back and having a veteran group like us, we've got to find a way to get over this little hump. Like I told the girls, adversity brings character and this will bring out our character."
Zellous said the team has to keep getting better. "We have to have each other's backs," she said. "We know in this league you can't take a night off because each and every team is really good. We just have to regroup—watch film and pretty much get back to the Xs and Os. Get to the things we're used to doing, which is playing defense. Our defense isn't good right now, so we have to get back with it."
The tide turned for the Liberty when it played the Atlanta Dream Tuesday night at home at the Westchester County Center, pulling out a 79-72 win. Although Brittany Boyd was scoreless, her 11 assists were crucial. The team heads west for games in Las Vegas Friday and Los Angeles Sunday. The next home game is Tuesday, June 26, against the Phoenix Mercury.