School Chancellor Carranza in his own words
CYRIL JOSH BARKER Amsterdam News Staff and NAYABA ARINDE Amsterdam News Editor | 6/21/2018, midnight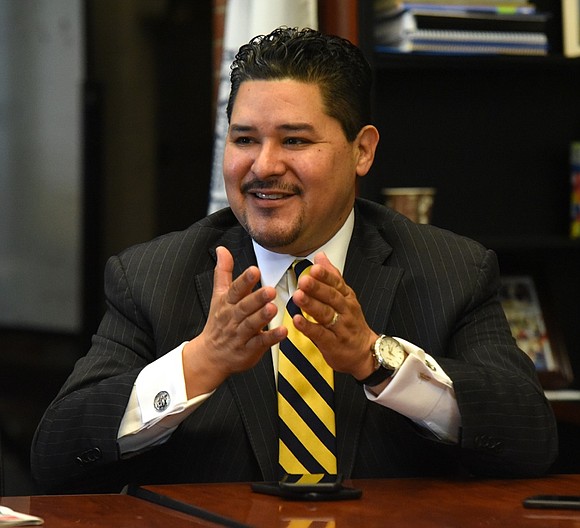 Next year he plans to partner with United Federation of Teachers President Michael Mulgrew to give students who graduate from the programs job offers if they earn college degrees and teacher certification.
Carranza said he also wants to tap into the public school's diverse paraprofessional employees to create a pathway for them to become full-time teachers.
Earlier this year, the results of a lack of diversity among public school teachers and administrators took center stage after a string of racial incidents occurred at several schools.
In February, during Black History Month, a white middle school teacher, stepped on the backs of Black students during a social studies lesson on slavery. In another incident, a white principal allegedly ordered a Black English/Language Arts teacher not to teach Black history to students.
The Department of Education came under fire for doing little to remedy the problem, with critics citing a lack of implicit bias training. Reports surfaced that the training involved merely watching a video or a few hours of online training.
"Implicit bias training is examining what your biases are," Carranza said. "There's a process and a methodology for doing that. Self-reflection, where you have to come to terms with some of your biases, and then recognize them and then move past that. It's very powerful work, but it's something that doesn't happen in one session."
In recent weeks, diversity at the city's eight specialized high schools has become a concern after Mayor de Blasio announced he wants to get rid of standardized testing, as a means to get more Black and Latino students in schools such as Stuyvesant High School and Bronx High School of Science.
Carranza told the AmNews that although the students of color make up 70 percent of the public school population, only 10 Black students were admitted into Stuyvesant High School this school year. Numbers indicate that the high school is more than 70 percent Asian.
The mayor and Carranza received pushback about the plan, mostly from Asian parents who claim taking the test away discriminates against them and eliminates spots for students. One parent reportedly said student who are "suppose to be there" are being unjustly taken out.
Carranza faced his first controversy as chancellor when he retweeted a news story about angry wealthy white parents on the Upper West Side voicing their opposition to diversifying a school. The tweet was later deleted and Carranza apologized.
The chancellor also told the AmNews that out of America's 165 specialized high schools, only eight require a test to get in. All of them are in New York City. Carranza believes the test is unfair because it requires families to spend thousands of dollars on test prep most low-income families can't afford.
"There is no quantifiable evidence that points to the effectiveness of a single test as a sole [criterion] for admitting kids to a specialized school," he said. "What's even more harmful is that test is not necessarily valid or reliable as a predictor of success in a specialized program. It's just a test that you make as hard as possible. It's not connected to the state standards. It's a screener."
One way Carranza wants to diversify specialized high schools is by looking at students' middle school ranking. Of the city's 600 middle schools, student from only 21 represent half of students enrolled in specialized high schools. Under his proposed plan the top 3 percent of all middle school students would get the opportunity to go to a specialized high school. The percentage would increase by 2 percent every year after.