Stylish performance pieces for men and women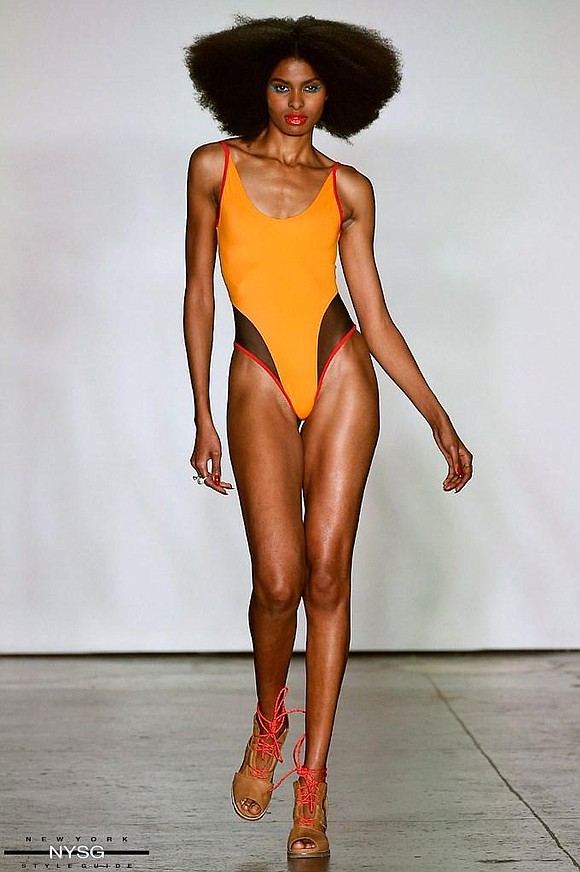 Stylish performance pieces for men and women
The enjoyable aspect of Chromat's show for New York Fashion Week was the array of models in all sizes and shapes. They were all stunning. The designer's use of color was fascinating. Even in the makeup and accessories, there were splashes of vibrant colors on eyes, eyeglasses and other accessories. Their swimsuits looked sleek and the athletic wear was cut on the edge.
Chromat is an architectural swim and athletic wear design house. For strong, powerful women, these looks are worn on track fields, courts, beaches and boardwalks. Designer and founder Becca McCharen-Tran's background is in architecture. Her design concept explores the intersection of architecture, fashion and technology. These garments augment and enhance the wearer's body. The clothes move as you move with graceful performance quality. These pieces are innovative designs created in cutting-edge, yet technical fabrics. Chromat's main focus is on empowering women of all shapes and sizes through perfectly fitted garments.
For men, Just In XX exposed a vast collection of extraordinary garments on the NYFW runway for fall/winter '18. With designer Justin Yu-Ying Chou's background in Taiwan and growing professional training in Italy and the U.K., he incorporates both Western and traditional Eastern elements into his often conflicting aesthetics. Bringing together the Eastern cultural bond with Western structures is a concept that's always evident in each new season's designs. He injects refined, classic and high-quality tones into each look.
He launched Just In Case, his first company, in 2013. Then, he had a vision of street fashions and a philosophy of cultural diversity. Just In Case brand is popular among celebrities and stylists. They are known as one of the most impressive and daring street-style labels on the market. Chou is named as Taiwan's most rebellious designer. For fall 2018, he identified a high street concept with classic crafting skills.