Trump's immigration separation policy: A civil rights and human rights issue!
SAEED SHABAZZ Special to the AmNews and NAYABA ARINDE Amsterdam News Editor | 6/21/2018, midnight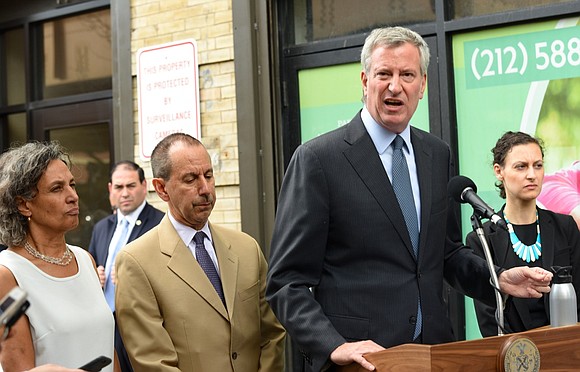 Trump's immigration family separation policy: A civil and human rights violation
By SAEED SHABAZZ
Special to the AmNews
and NAYABA ARINDE
Amsterdam News Editor
The whole world from the pope to the agitating proletariat is pushing back against President Donald Trump's "zero tolerance" immigration policy, which has resulted in separations of undocumented parents and children. "It will take more than the cries of babies to make President Trump back down," according to CNN.
Under mounting pressure even from inside his own GOP party, Trump rescinded his controversial separation policy Wednesday afternoon.
Even mainstream and cable news people have expressed emotionally the fears that thousands of children will be traumatized with this life-changing experience. Inconsolable toddlers crying for their parents have been the mainstay of digital and print media for the last few days. Breaking news all across the dial are heart-wrenching pictures of children in fenced camps, and parents pleading to know where their babies are in the "tender age" centers and other enclosures.
"The Trump administration's outrageous acts of cowardice at immigration detention centers around the country have weakened our moral standing and caused enormous pain for families being ripped apart," said the Rev. Al Sharpton, MSNBC host, and president and founder of the National Action Network. "Enough with the sanctimonious Bible-quoting—President Trump or Jeff Sessions wouldn't do this to white children at the Canadian border. We must hold them accountable for these horrific abuses."
Meanwhile, East Harlem residents are up in arms since learning that children have been brought to the Cayuga Center, in the immigrant foster care facility.
Reuters announced that Trump will "be signing something." Acknowledging that the majority of Republicans want to keep families together, Trump said, "I'll be signing something in a little while that's going to do that."
June 18, U.N. High Commissioner for Human Rights Zeid Ra'ad Al Hussein voiced deep concern over the recently adopted U.S. border policy of forcibly separating children from their parents.
Zeid said that the American Association of Pediatrics called the policy "government sanctioned child abuse" that might cause "irreparable harm" with "lifelong consequences." He called on the U.S. to immediately put a stop to the policy and ratify the Convention on the Rights of the Child.
Separating children from their families is in no one's best interest, said the head of the U.N. Children's Fund UNICEF June 19. Executive Director Henrietta Fore said in a statement that children who were in need of international protection "have the right to be protected…and be with their families."
June 19, civil rights leaders, including Sharpton, held a news conference at the U.S. Capitol calling on the administration to immediately cease the separation of children and their families at the U.S. border.
Sharpton said in a statement, "The gathering of major civil rights leaders is to underscore our outrage at the administrative directive to separate children from their parents. This must be resisted at all levels. If Congress does not act today, we will begin as early as Thursday waves of visits to the border in efforts to have clergy and humanitarian visits to these children and to show the world that America has not lost its consciousness or soul."