Young filmmakers bring their stories to the big screen
Matthew Brown | 6/21/2018, 2:55 p.m.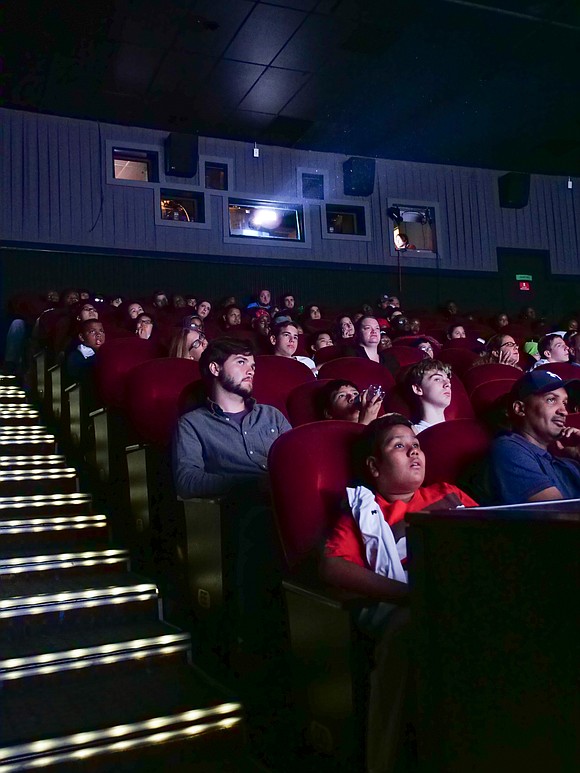 Hundreds of the city's middle school students, parents and community members streamed into Chelsea's School of Visual Arts Theatre for the city's annual School's Out New York City Film Festival June 16. With sandwiches, candy and popcorn in hand, the students eagerly waited to see their work projected on the big screen. Featuring nearly 50 short films developed by students participating in the NYC Department of Youth & Community Development's afterschool film programs, the pieces neatly and honestly blended comedy and social commentary.
"We like to make horror films but then we also like fiction, because fiction can also compare to your life," said eighth-grader Alan Pascalli of his group's projects.
"We were the ones that came up with the ideas on what films we wanted to make, and the mentors provided us with what we needed," added seventh-grader Alicia Gordon.
The SONYC Film Festival is one of the largest events hosted by the Comprehensive After School System of New York. The SONYC Initiative, which serves as the middle school division of COMPASS, is now present in more than 939 afterschool programs throughout the city. The program centers student's decisions on how to spend their time while also introducing students to a diverse set of experiences.
"I really like the program because it lets me be around a different environment than other after schools," said Anila Benjamin, a seventh-grader.
"They're learning a lot," said Fran Benjamin, Anila's mother. "Getting this exposure has meant a lot to them, and they're learning skills and insights that will be very useful to them in the future."
The films featured at the SVA Theatre were selected from a submission pool of more than 200, with nearly 20 afterschool programs representing all boroughs present at the event. Prizes were awarded both for the best films in different categories and for the best performances from actors. "I'm excited because I get to come and see what I've been working on forever on the big screen," said seventh-grader Pascale Garrett. "The whole class contributed, and we made a whole film out of just 10 kids doing camera and acting," she added.
When asked what his favorite part of the festival has been, Garrett—and his twin—exclaimed, "The bloopers!"
The expansion of SONYC and other COMPASS initiatives comes after Mayor Bill De Blasio's 2014 promise to achieve universal afterschool programs in the city. "Every year this event has gotten bigger and better," declared DYCD's Coordinator of Special Initiatives Elaine Glover. "We've seen a lot of growth with some of these programs where they didn't start out with a film club and now they're submitting five films every year!"
COMPASS is now the largest municipal after school system in the United States, with an operating budget of $247.3 million in 2017. The organization began with an initial budget of $46 million in 2005, but was renamed and considerably expanded in the 2014 overhaul.
"It's so rewarding because you know the kids who participate are really invested in it, so we would like to not just give them this day but also give them something to go back with," said Glover of the event and the program. "Often, we'll give programs equipment that they never had so that they can continue to make the films, continue to make it better and continue to invest in their youth."
Allison Hirschhorn, a senior systems analyst and former program manager with DYCD spoke with the Amsterdam News as students and counselors alike posed in the event's red carpet photo booth. Hirschhorn, who joined DYCD during the 2014 expansion, commented on the impact of the program on the students. "The coolest part has been seeing the kids be exposed to different things," she said. "Some portion of these kids are going into film now, and it's great to think that it happened because they were exposed to it here."