BET Awards taking viewers to 'Blackanda'
Tyvan Burns | 6/23/2018, 8:06 a.m.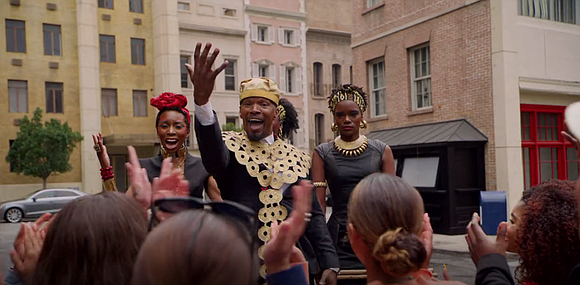 After 32 years in the parent company for Black Entertainment Television, Debra L. Lee, Esq. stepped down from her position as Chairwoman and CEO. Shortly after, the theme for the BET Awards was revealed.
After the tremendous success of Marvel's Black Panther and its "trend-setting" fictional country Wakanda located in East Africa, they decided to come up with a "Blackanda" theme. Many viewers, particularly African Americans, were highly disappointed with the commercial's and overall theme, feeling like it is a misrepresentation and unnecessary stance for the Black community.
One of the commercials for the award ceremony, hosted by Jamie Foxx this year, starts off with him talking to a small audience about black excellence, imitating a thick "African" accent. He preaches about the importance of supporting black artistry and embracing our blackness, leading him to touch a lady's "natural curls" in a comedic fashion.
Dominique Jones, a Black Lives Matter advocate, expressed that "it is lackluster and embarrassing. It is not representing the potential of what BET could be." She also felt like with their transition to find new leadership, that "this would've been the opportunity to shift the direction of BET and its award shows in a more positive matter."
"I feel like a Black person did not come up with this idea," another viewer stated. Feelings of being underwhelmed, degraded, and offended were also expressed, as thousands of comments were published on Twitter, Instagram, and other social media platforms.
Ila Wilborn, a college student from Florida Agricultural & Mechanical University (FAMU), said "the theme is like telling an old joke. We're tired of it now and not everything black needs to be associated with Black Panther."
Daja Henry, a college from Howard University, said the theme is "unoriginal."
According to many of those a part of Black Twitter, the social media movement where African American Twitter users state and express their opinions about issues or interests in the black community, "Blackanda" is seen as "watered down" and "hypocritical," as Wakanda is already a place of black excellence and renaming it denounces its original definition.
BET Awards 2018 will premiere on Sunday, June 24 at 8/7c.