Antwon Rose Jr.: 'Everything and more'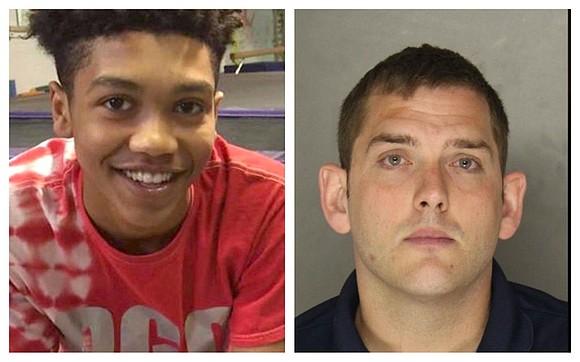 "He murdered my son in cold blood. If he has a son, I pray his heart never has to hurt the way mine does. But I think he should pay for taking my son's life. I really do."
Michelle Kenney couldn't hold back her tears during her only televised interview as she called out to the police officer who killed her son, 17-year-old Antwon Rose Jr. She laid him to rest this week as America learns more about the latest unarmed Black male fatally shot by police.
Rose was killed on the night of June 19 when police stopped the car he was riding in. They believed the vehicle was a rideshare involved in a drive-by shooting.
Officers ordered the driver to get out of the car and placed him in handcuffs. Rose and another teen in the car allegedly ran before Officer Michael Rosfeld fired at them three times. Rose was taken to the hospital where he later died.
The other person in the car who fled, 17-year-old Zaijuan Hester, was later caught by police and reportedly arrested for violating his probation.
Rose was unarmed and on the now viral video of the shooting a woman can be heard saying, "Why are they shooting at him? All they did was run and they're shooting at them."
No evidence connected Rose to the alleged drive-by shooting.
The world was shocked to learn that Rosfeld was sworn in as a police officer for the Allegheny County Police Department just hours before the shooting. He had experience working for other police departments. Rosfeld is charged with criminal homicide. He was previously placed on leave.
Officials from Allegheny County District Attorney Stephen Zappala's office said in a statement that Zappala met with Allegheny County Police Superintendent Coleman McDonough and Lt. Andy Schurman about Rose's death. The investigation is ongoing and more information will be released next week.
Rose's funeral was held Monday at Woodland Hills Intermediate School, where he previously attended middle school. Family, friends, teachers and neighbors attended the private service. Rose was described as an all-around friendly person who was an honor student and took Advanced Placement classes.
A poem Rose wrote was in the program titled "I AM NOT WHAT YOU THINK!" containing the lines "I see mothers bury their sons" and "I want my mother to never feel that pain."
"Antwon was a good kid. He was fun-loving and a good student, good role model," Rose's aunt Carol Morrison said in an interview with the Black press. "He loved his mother, he loved his sister, he loved everybody he came in contact with. His smile was everything and more."
According to Pennsylvania law, police officers can only use deadly force on a fleeing suspect if they pose a threat. Suspects also must have a weapon on them or a history of using one.
Rose's family has hired civil rights attorney S. Lee Merritt, who said in a statement that the officer's use of deadly force was unjustified.
"We must emphasize that rumors of Antwon being involved in a separate shooting are unsubstantiated," he said. "We know that he was not armed at the time he was shot down, that he posed no immediate threat to anyone."
Rose now belongs to a list of unarmed Black men in America killed by police. Protesters have taken to the streets in Pittsburgh citing race as a factor for the killing. Most of the demonstrations have taken place in downtown Pittsburgh in front of the Allegheny County Courthouse.
Protesters took to the Parkway East freeway, where traffic was slowed down, PNC Park and on the southside of Pittsburgh. The city is preparing for protests to continue through the summer.
"We are deeply concerned by this situation," said Pittsburgh Branch NAACP President Richard A. Stewart Jr. "Rose, an honor student, was unarmed when the officer shot him in the back. Why did this happen? The community must get answers from authorities and the appropriate actions taken."