Dr. Michael Baston living in the best of both worlds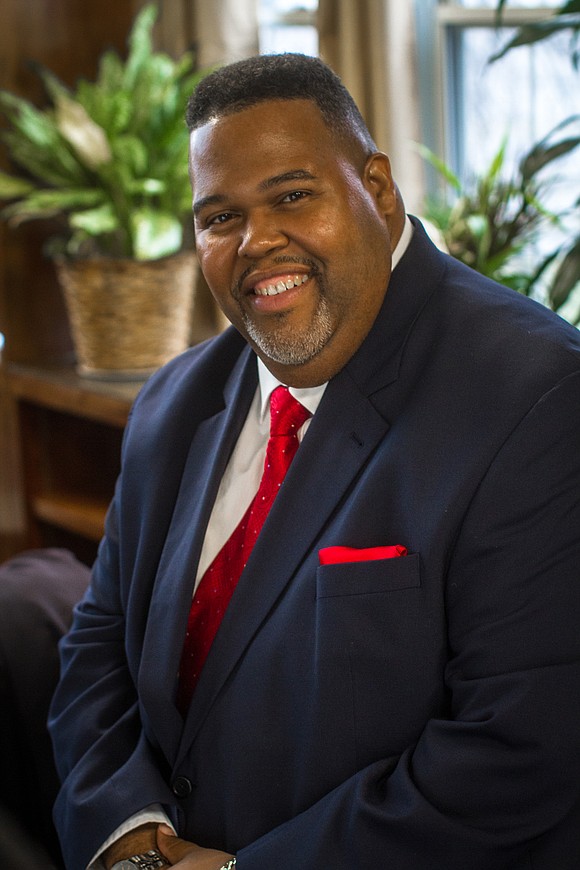 Dr. Michael Baston's passion for helping others achieve their dreams is the perfect ingredient for his dual role as president of Rockland Community College in Suffern, N.Y. and senior pastor of St. Luke Cathedral in Queens.
Recently appointed as the seventh president of the 7,000-pupil community college, Baston is finishing his inaugural year as the college's first African-American president. He came from CUNY's LaGuardia Community College, where he served as the vice president for Student Affairs and associate provost.
Along with being a college president, Baston also leads the 125 members of St. Luke Cathedral. The non-denominational church serves the Laurelton, Queens community with a food pantry, youth programs and senior services.
In a recent interview with the AmNews, Baston says he commits his life to making the lives of others better.
"If you look at the totality of my background, it's all interconnected," he said. "I live by my faith inside and out of the church. My values follow me everywhere."
That background includes an original plan to be a lawyer, which he achieved. Baston holds a BA from Iona College, a JD from Brooklyn Law School and an EdD from St. John Fisher College.
He began his career as a public interest lawyer representing various educational institutions and social justice organizations. Working closely in the academic world led him to pursue a second career as both a professor of legal studies and business and a student affairs administrator.
As a college administrator, Baston uses an approach he calls "purpose driven education" to help student reach their highest potential.
"Purpose driven education allows us to find academic programs to help students make real goals and make sure they develop a plan to take actions to be successful," Baston said.
An advocate for the nation's community colleges, Baston is considered an expert in the higher educational option. He's been featured in several trade publications and was selected as a member of the inaugural class of Aspen Institute Presidential Fellows for Community College Excellence, where he explored systemic issues affecting the educational access pipeline and student success.
"Community colleges are becoming a more utilized strategy by middle-class and low-income families," he said. "It will help them reduce the cost of a four-year degree. Students can learn "middle skills" giving them access to high paying jobs."
In his first year as president at RCC, Baston oversaw an increase in enrollment, the building of relations with business and industry partners and improvements to the campus' infrastructure.
On his church side, Baston said he received a calling to join the clergy at a young age and that he could no longer run from it. Over the years, he's served in the gospel ministry, moving up the ranks from deacon to senior pastor. Baston's been at St. Luke Cathedral for the past 12 years.
"Whether it's in the classroom or in a church, my life's mission is give people access to better life," he said. "Education as well as the ministry were both higher callings and I embrace both of them.
With one year under his belt at RCC, Baston wants to continue to bring the college to new heights, creating a pathway for anyone with dreams of obtaining a college degree. Under Baston's watch, students at RCC recently received 185 scholarships totaling more than $200,000.