'Red Flag' bill fails in Albany; Cuomo and others criticize GOP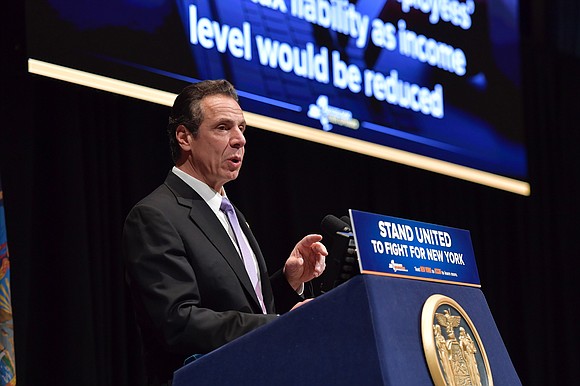 New York State Gov. Andrew Cuomo hit back at New York State Senate Republicans. The crime: not allowing a gun reform bill to make it to the Senate floor.
Although the bill made its way through the Democrat-dominated state assembly with ease, the Republican-controlled state Senate refused to bring the measure to a vote. Cuomo took to political ads to remind New Yorkers to vote this year if they want to see gun reform passed.
"New York Republicans are bowing to Trump and their NRA-backed D.C. cronies, refusing to protect our kids, so now it's up to us," the ad says. "Make your voice heard for all of those who can't."
The Red Flag Gun Protection Bill would prevent people who are determined by a court to have the potential to cause harm to themselves or others from buying or possessing any kind of firearm including rifles, shotguns and hand guns. The bill had the endorsements of New York State Sen. Jamaal Bailey, Rep. Eliot Engel, Bronx Borough President Ruben Diaz Jr., New York City Public Advocate Letitia James and New York City Council members Ritchie Torres, Vanessa Gibson, Andy King and Bill Perkins.
Cuomo previously advanced legislation for a 10-day waiting period for people who aren't approved to purchase a firearm through the National Instant Criminal Background Check System. Under current federal law, gun dealers have to conduct NICS background checks on a potential buyer prior to selling a firearm.
Lieutenant governor candidate and New York City Council Member Jumaane Williams also blasted the conservative state lawmakers for not letting the bill get to the floor. He brought up the upcoming warm weather to launch into a talking point about gun laws.
"The warm summer months historically bring a wave of increased shootings across the state, so it's a disgrace state legislators left Albany this week without delivering on the most basic anti-gun violence measures to help reduce shootings," said Williams in a statement. "What's even more disgraceful is the lieutenant governor capitalized on the Red Flag Bill by holding multiple press conferences across the state to try and hide her close ties to the NRA and strong gun rights record, simply because it's an election year and politically convenient. That's a major red flag."
The People for Bernie campaign took to social media to express their favor for Williams over current New York State Lieutenant Gov. Kathy Hochul, pointing out that she's been endorsed by the National Rifle Association in the past and has an A- rating from them.
"Does anyone really think Kathy Hochul cares about passing anti-gun measures like the Red Flag Bill?" asked the People for Bernie page on Twitter. The page also said that Williams is toughs on guns while Hochul "pretends to be during an election year."
Under current New York State law, firearms could be removed from a person subject to a criminal or family court-issued temporary order, but court orders can only be temporary orders of protection in connection with a criminal or family offense proceeding. There's no law on New York State's books that enables a court to issue an order to temporarily seize firearms from a person believed to pose a severe threat to others unless they've been accused of a crime. For Hoylman, the current law isn't enough.
"For nearly a decade I have fought tirelessly to help combat the city's gun violence problem through a holistic approach, and our work has paid off," stated Hoylman. "New York is now safer than it has been in decades. It's time for Albany to muster the political willpower and follow suit."