Ross at Gallery, African cinema, Sheeba, Parker residency
RON SCOTT | 6/28/2018, midnight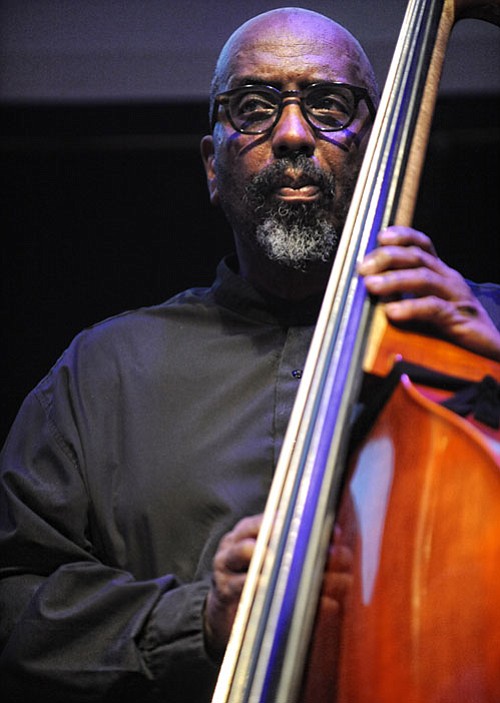 Joel Ross, the young vibraphonist from Chicago is no longer an aspiring musician. He is a qualified, daring rhythmic independent, who brings his own perspective to the vibraphone. His rapid mallets swing from the tradition of Lionel Hampton to Bobby Hutchinson and his own path that leads listeners through unexplored roads.
June 29 and June 30, Ross will revisit his 2017 "Jazz Gallery Commission: Being a Young Black Man." His expressive ensemble will include saxophonist Immanuel Wilkins, pianist Fabian Almazan, bassist Harish Raghavan, drummer Marcus Gilmore and spoken word artist Jasmine Wilson.
Ross' "Gallery Commission" premier was revolution music moving with fired rhythms, deep blues and soulful improvisation that represents "Being a Young Black Man." This revisit will probably bring more fire, given the mood of today's society.
The Jazz Gallery is located at 1160 Broadway (Fifth Floor). Two sets each night are at 7:30 p.m. and 9:30 p.m. Admission is $25 for nonmembers and $10 for members. For reservations, visit the website www.jazzgallery.org.
The African Cinema Film Series (June 29-July 1) is an honest perspective of Africa from those who are living the experience on a daily basis. African filmmakers explore their continent's complexity and challenges through comedies, documentaries and dramas that will open your eyes to the stories that affect them.
The series at Teachers College, Columbia University (525 W. 120th St.) opens with a free screening of "The Big Banana," at 7 p.m.
Banned in Cameroon, "The Big Banana" illustrates the poor working conditions in banana plantations and exposes the adverse impact on the people of a corporatocracy government that affords super-profits for corporations at the expense of the local population.
July 1, at 4 p.m., "The Man Who Mends Women," presents the life and work of renowned gynecologist Dr. Denis Mukwege from the Democratic Republic of Congo. He medically assisted more than 40,000 sexually abused women in 16 years of professional practice.
Sexual violence against women has been used as a weapon of war for years in the violence-ridden and poverty-stricken Democratic Republic of Congo. To provide medical, psychological and emotional aid to the victims, Dr. Mukwege founded the Panzi hospital in Bukavu in 1999.
Dr. Mukwege also defends human rights and seeks to raise global awareness on the issue of sexual violence in his country. He condemns the political reluctance to tackle the problem.
General admission for screenings is $13, and for students and seniors, admission is $10. For a complete film schedule, visit the websites
https://www.eventbrite.com/e/africa-cinema-film-series--tickets and www.africandiasporainternationalfilmfestival.
There are many Ethiopian Restaurants in Harlem to choose from, including Massawa at 1239 Amsterdam Ave. and 121st Street and Abyssinia at 268 W. 135th St., which is not surprising. However, on a recent visit to West Palm Beach, Fla. a close friend, Stewart Bosley, a former New Yorker, who has since relocated and is now the owner/operator of Urban Growers Community Farm, introduced me to his favorite restaurant in town.
"Hey I have the perfect restaurant for you, the Queen of Sheeba," said Bosley. "It's Ethiopian and the food is great."