Septima Poinsette Clark, innovative teacher and devout freedom fighter
Herb Boyd | 6/28/2018, midnight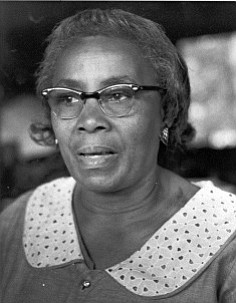 When the roll call of civil rights icons is delivered, Septima Poinsette Clark should not be omitted. She might be only a footnote in many historical accounts of the movement for social justice, but for the more informed among us, she was an important activist who was fully committed to teaching and training others in civil disobedience in the fight to end racism and discrimination.
Clark is perhaps best remembered for her years at the Highlander Folk School in Monteagle, Tenn., where she tutored a number of notable activists, including Rosa Parks. Her instruction and techniques, mainly under the guidance of Myles Horton, the school's founder, are what made Clark so in demand by other organizations and freedom fighters, none more notable than Ella Baker, who wanted Clark's approach as part of the programs and operations at the emerging Southern Christian Leadership Conference.
Born May 3, 1898, in Charleston, S.C., Clark knew firsthand the oppressive impact of segregation and even vestiges of slavery from her father, Peter, who was a house servant for a noted politician. Clark's mother, Victoria, was very strict in her rules and regulations for her children, hoping to prepare them for a better life than hers. But the rebel in Clark was soon evident, even in school, where after several remonstrations she was turned over to an elderly woman in the neighborhood for home schooling and grooming.
After attending high school at the Avery Normal Institute, she could not afford college so she took a state exam and began teaching on John's Island at 18. From 1916 to 1920, she taught alternately at Promise Land School and Avery. Finally, while attending college on a part-time basis, she earned her BA at Benedict College in 1942 and received her MA from Hampton Institute in 1946. Once again, with degrees in hand, she returned to the classroom, mostly on John's Island, where she began to perfect her innovative teaching methods in reading and writing, ostensibly utilizing a Sears catalog.
One of the things she began to notice was the disparity between the pay allotted to Black and white teachers, and that motivated her to join those demanding equal pay for Black teachers. This activism was the conduit to her involvement in the Civil Rights Movement. She was familiar with the NAACP from her early years, but there was no branch of the organization on John's Island. During her teaching experience in Charleston at the Avery Normal Institute she became more acquainted with the organization and became a member. Almost immediately she was among the leaders in the drive to allow Black principals at Avery and in the Charleston public school system.
As with most of her endeavors, Clark quickly gained notice for her tireless advocacy and keen understanding of the social and political issues. She withstood a number of troubling moments during her political maturation—losing her first child was the biggest obstacle to overcome. Her husband, Nerie David Clark, who she had married in 1920, died of kidney failure in 1925. Her association with the church helped her during these personal challenges as well as bolstered her spiritual awakening.