From South Africa to Bed-Stuy, activists commemorate Soweto Day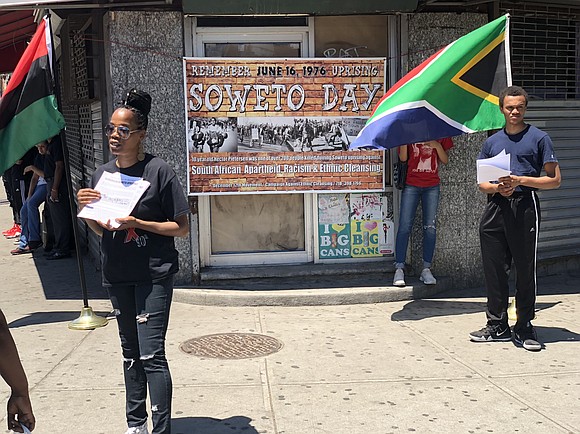 The "We Ain't Going Nowhere!" stop ethnic cleansing of the Black community campaign led by the December 12th Movement took to the streets of Brooklyn Saturday, June 16, in solidarity with the International Day Commemorating the Soweto Uprising. They rallied on the corner of Nostrand Avenue and Fulton Street under large banner reading, "Remember June 16, 1976, Uprising SOWETO DAY-South African Apartheid, Racism, & Ethnic Cleansing." They were distributing flyers and talking to passersby while spokesman Omowale Clay spoke on the mega-horn.
Clay said, "Forty-two years ago, Black students in apartheid South Africa rose up in opposition to the government's attempt to ethnically cleanse them. The white, racist South African government had passed a law requiring that all school instruction would be in English and Afrikaans, the Dutch-Germanic language of the white colonizers."
"The students, inspired by South Africa's Black Consciousness Movement, said 'enough,'" he continued. "They refused to accept this attack on their culture and demanded to be taught in their indigenous languages. On the morning of June 16, 1976, thousands of students gathered to hold a peaceful march and rally against the Afrikaans language law. They were met with the full, lethal force of the apartheid government police, who arrived in armored cars, helicopters and with heavy weaponry. Hector Pieterson, a 12-year old student, was one of the first people murdered by the police. The photograph of the mortally wounded Hector being carried for help became the international symbol of the Soweto resistance. The apartheid security forces killed hundreds of students that day."
The Soweto Uprising sparked a surge in the armed struggle against apartheid, which eventually led to the release of Nelson Mandela and his comrades in 1990 and the formal dismantlement of the apartheid regime by 1994.
"The South African apartheid government drew its inspiration from the Jim Crow practices of the United States. While the form of Jim Crow has changed in the U.S., its goals have not. Today Black people face, like our South African brothers and sisters did in 1976, a campaign of ethnic cleansing. A campaign to destroy our culture, miseducate us, drive us out of the communities where we have lived for years, and to randomly disperse us around the country. Black folks in Soweto refused to give in or give up. Black folks in Bed-Stuy must learn the lesson and do the same," Clay concluded.
For more information on the "We Ain't Going Nowhere!" campaign to stop ethnic cleansing, call 718-398-1766.