A Sunday best
KYSHA HARRIS | AmNewsFOOD Editor, @SCHOPgirl | 6/28/2018, midnight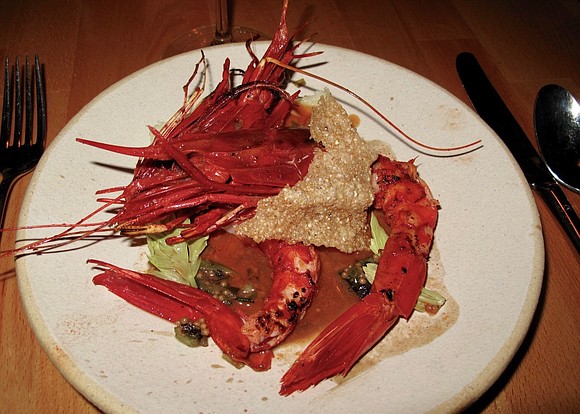 I met chef Adrienne Cheatham (@ACs_Kitchen) for the first time while working on this year's Harlem EatUp! festival. I did not know much of her storied past working for Marcus Samuelsson and Eric Ripert until her appearance on season 15 of "Top Chef" and the great success she earned as the season's runner up.
Since returning to Harlem from the competition, the chef has gotten married and is building her future with a series of dinners called Sunday Best. With the support of Harlem restaurants, Cheatham takes over each space and serves a four-course meal paired with wines.
This past Sunday, Sunday Best popped up at Clay (@ClayNYC, 553 Manhattan Avenue, 212-729-1850), and I was invited to see what it was all about. The Clay welcome cocktail of sweet vermouth rhubarb spritzer set the tone of what was to come.
Cheatham welcomed us all and started us with her version of shrimp and grits serving the coveted Carabineros shrimp (Eastern Atlantic deep sea) with charred green onion and red gravy over a stone-ground grit cake. Clay's sommelier paired it with a dry, crisp Albarino.
The next two courses of boudin-stuffed calamari with remoulade and perfectly cooked lacquered duck breast with red miso barbeque sauce, creamed turnips and spoon bread brought a frizzante Gamay and Rioja, respectively. I do not care for turnips but creamed, I could not resist.
Last, but certainly not least, a unique take on lemon meringue pie using yuzu served with blueberry compote. A French sauternes helped to punctuate this light but filling dining experience.
Good on you, chef and Clay! I am always looking forward to more.