Talking SCHOP! A 'Top Chef' Juneteenth
KYSHA HARRIS Food Editor, @SCHOPgirl | 6/28/2018, midnight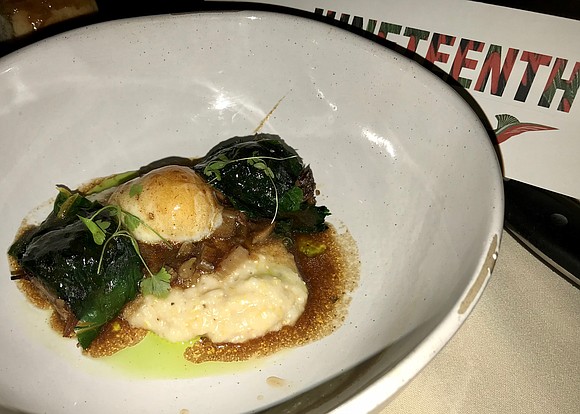 Happy belated Juneteenth! I learned more about it when I visited the George Washington Carver Museum in Austin, Texas a couple of years ago. June 19, 1865 marks the day the announcement of the abolition of slavery in Texas and the beginning of emancipation for Blacks throughout the former confederacy.
Definitely more than a "jump up" worthy annual celebration, Juneteenth is another opportunity to testify of our undying spirit. Worthy also of four Black Top Chef contestants coming together to lend their talents to a dinner at the James Beard House one day before the annual holiday.
Season 15 "Top Chef" contestants, chef Brother Luck, chef Tanya Holland, chef Chris Scott and Harlem's own, and runner-up, chef Adrienne Cheatham collaborated on a magical evening beginning with the reception. Each chef created a canape paired with Harlem Blue 1658 Ale and wines. In order above, dirty rice arancini with pimento cheese, andouille and Gruyere gougere, hoe cakes with pulled pork barbecue and red velvet macarons with foie gras mousse.
So sad I missed the reception, but the dinner treated me right! Cheatham started us off with uni spoonbread in a buttermilk dashi topped with caviar and paired with the most divine South African Sauvingnon Blanc. Just the thought of this dish sends me swooning again.
Scott, of Brooklyn's Butterfunk Kitchen, served his Nana Browne's scrapple with cornbread, okra chow chow and peanut sabayon for the second course. However, it was his intermezzo that captured everyone from the kitchen to the last table in the house—simply the "biscuit course." The largest, fluffiest, sweet-brown-butteriest carbohydrate put in front of me. Brava!
For our third course, Holland (a food crush of mine since the nascent day of Food Network and her show "Melting Pot"), served slow roasted Skuna Bay salmon with summer bean salad and muffaletta dressing. When I tell you I do not like to eat salmon outside of my home lest it be prepared by a deft hand, chef's were def-deft! So balanced, so tender and perfectly seasoned.
Now leave it to the comeback king, Luck, to serve the fourth course of braised oxtail with brown butter grits, soft egg and pickled rainbow chard. I finished every bite of it and could have had more. The pickled chard was the perfect foil for the richness of the dish.
Finally, Scott and Holland collaborated on a deconstructed pecan pie with ice cream, apple jam and cornmeal cookies. Paired with Diplomatico Reserva Exclusiva Rum, it sent me off wafting into the night.
What an exceptional evening! I am grateful for all and to have met each of you. Blessings.
Happy eating and thanks for reading!
Kysha Harris is a food writer and editor, culinary producer, consultant and owner of SCHOP!, a personalized food service in NYC for more than 15 years. Follow her on Twitter and Instagram, @SCHOPgirl, on Facebook, /SCHOPnyc, and her blog, www.talkingSCHOP.wordpress.com. Questions? Comments? Requests? Feedback?  Invitations!  Email AmNewsFOOD at AmNewsFOOD@SCHOPnyc.com. Follow us on Instagram, Twitter and Facebook @NYAmNewsFOOD and tag us with #SoAmNewsFOOD with your food finds!