Family fun at Great Wolf Lodge
MEGAN PINCKNEY | 3/1/2018, 3:50 p.m.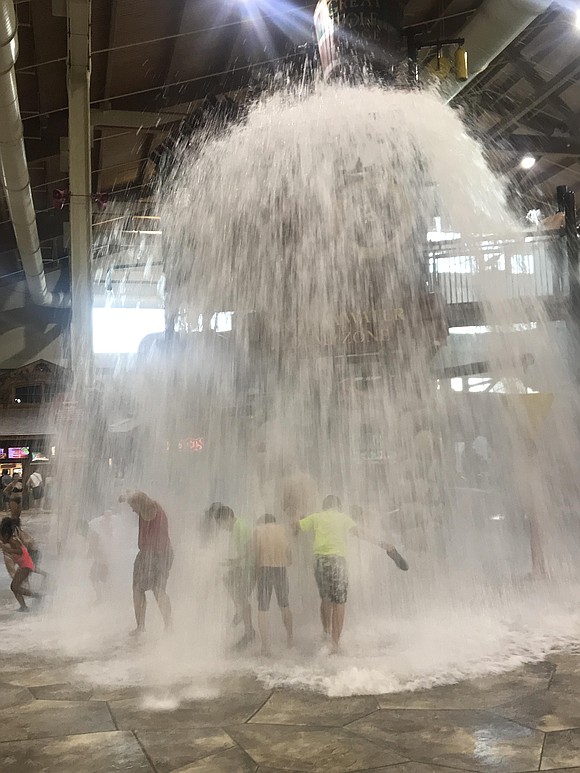 What if there was a place where you could visit on any day of the year, no matter the weather, and be certain that both you and your children would be entertained? Well, that magical place does exist in 15 cities across the U.S. and Canada, with three others currently under construction. It's Great Wolf Lodge, but don't let the name fool you—this place is much more than a hotel. Even referring to it as a resort seems inadequate, and that's because the only way you can really describe Great Wolf Lodge is by calling it an experience.
From the moment you drive up to the massive property—it makes warehouse-sized stores such as Wal-Mart look like garages—you realize this company has gone to great lengths to make their guests feel as if they've stepped into a little village that could easily serve as the backdrop to a classic fairytale. Most properties are fitted to look like colossal log cabins on the exterior with gigantic carved wolves and stone boulders near the entrance. That log cabin feel only intensifies when you enter the lobby, thanks to the logs that make up the front desk, the wooden ceiling and walls, the chandeliers made of animals' antlers, the deep forest color pallet creating a feeling of warmth and coziness and, of course, the fireplace that stretches up to the ceiling. Each lobby also has a clock tower, which is actually a vital part of the Great Wolf Lodge experience. It's here that children gather for story time at night and animated performances throughout the day, by the animals that live in the tower and nearby trees. It also serves as the most identifiable landmark for parents to give as a reference point when planning where to meet.
During check-in children are given a pair of wolf ears to feel a part of the pack, and you'll see those ears on nearly every single child while you are in the building. Parents and children are each given a plastic wristband that serves as a room key for all and a credit card for those who are responsible enough to have one.
There are plenty of attractions to keep anyone entertained for the duration of a trip, but Great Wolf Lodge is known mostly for indoor water parks. But I won't lie, when I found out I'd be staying at a hotel with a water park inside of it I wasn't too thrilled. Based on my previous experiences, hotels with indoor water parks were outdated, dingy and damp and only had a few slides that were small and crowded, so not even worth toughing it out over the other negatives.
But Great Wolf Lodge is not another failed attempt. Instead, the designers seem to have found a way to enclose an outdoors water park and attach it to the back of a hotel without having one disturb the another. They have not had to scale back the size of any slide, pool or amount of water used just because they are indoors. The slides are fast and tall, and, honestly, a little scary, but so much fun for people of all ages.