Jumaane Williams makes case for lieutenant governor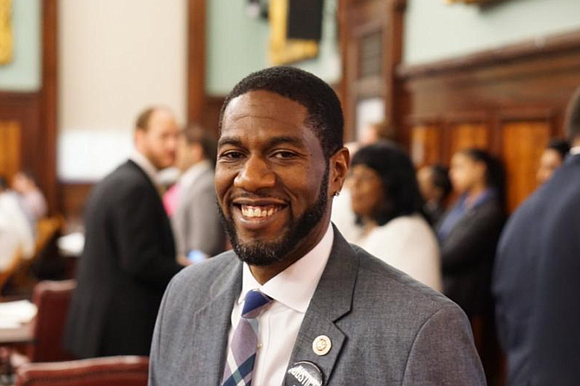 He lost the City Council speaker race, but Jumaane Williams has moved to bigger ambitions already.
After Corey Johnson's swearing in as the new City Council speaker, rumors circled that Williams, a City Council member from Brooklyn, would pursue the lieutenant governor position currently occupied by Kathy Hochul. Coming so close with his defeat in the City Council speaker election, one could draw suspicions if you wanted to. But Williams, after referring to those who feel that way as "gossipers," said he had these ambitions from the start.
"As a Council member, I realized I needed a citywide response for the things I care about in my district," said Williams. "Now, I realize I need a statewide response. I think it's an often overlooked position. I want to be the people's lieutenant governor."
Williams said he looks at the lieutenant governor's position the same way he looked at the public advocate position in New York City: a way to challenge and critic current New York State Gov. Andrew Cuomo. Williams has been a consistent critic of the governor. He said that insiders floated his name around for possibly challenging Cuomo during his re-election bid, but Williams aimed lower.
"During the speaking race, some people had my name out there for governor," he explained. "I thought it was dope that my name was being put out there."
Williams used a speech at Salem Missionary Baptist Church in Flatbush on Martin Luther King Day to announce an exploratory committee for a lieutenant governor run. He formally made his announcement at City Hall a month later.
During his City Hall announcement, Williams stated the lieutenant governor position "needs to be more than ribbon cutting and rubber stamping. I want to be the people's advocate in Albany, pushing the governor and the legislature to enact the progressive policies that are the promise of our state. I want to represent the diverse needs of the people of our state—and by the way, our state government could use some diversity."
But how would experience in a city position translate to a statewide one?
"I think that it's very transferrable," said Williams. "State politics are different from local politics and I realize that. I think one of the strongest assets there is the use of the bully pulpit."
Williams recently embarked on a tour of the state talking with citizens and local elected officials about the issues that matter the most to them. According to the Council member, the issues are the same no matter if you're in Albany County, Kings County or Allegany County.
"Housing, education and immigration was big," said Williams. "So were a lack of jobs. People were concerned about immigration for different reasons." He mentioned he met conservative farmers who were concerned about immigration because it affects the people who work on their land, which affects their bottom line.
Williams already received endorsements from elected officials such as Assemblywoman Rodneyse Bichotte, State Sen. Kevin Parker, NYC Council Member Brad Lander, Syracuse Common Councilor Latoya Allen and activists such as Kirsten Foy. But despite that connection, speculation floated that Cuomo's camp started looking to replace Hochul with someone hand-picked by the governor. One of those names includes Rochester Mayor Lovely Warren, a Black woman, which would give the position some diversity and maintain a connection to upstate.