NIGERIAN PARENTS PLEAD WITH OFFICIALS TO SPEED UP RESCUE OF ABDUCTED GIRLS
3/1/2018, 4:30 p.m.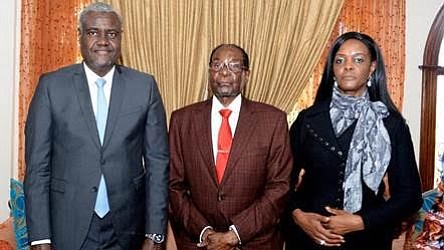 Parents of young teenage girls are pleading with Nigerian officials to speed up rescue efforts for their children kidnapped by Boko Haram.
"We don't want these girls to stay long with those militants. Anything can happen to them," said Kachalla Bukar, father of a 14-year-old girl, one of 110 abducted by Boko Haram from the Government Science and Technical College in northeastern Yobe state.
Bukar says his wife cannot stop crying and he cannot sleep since their "brilliant" daughter Aisha disappeared.
But even as he begged for action, officials were still disputing the details of the kidnapping.
Initially, after the attack Monday, the governor's office claimed that 50 girls were unaccounted for. They later released another statement to say the missing girls had been rescued by the Nigerian army, though they didn't specify the number rescued.
Soon, the state government did another about face, admitting that the girls had not actually been found or rescued.
Officials apologized in the retraction for the "erroneous" statement and said it was based on inaccurate information.
Faced with apparent government inaction and contradictory statements about the whereabouts of their children, the girls' parents have joined forces, tracking their own list of missing girls and forming an association.
Of the Dapchi students who survived, 13-year-old Hassanah Mohammed recounted the terrifying moment when gunmen wearing military uniforms burst into the school.
"We were about to start evening prayers when we heard gunshots outside the school. Everybody was terrified and we rushed to the gates and frantically scrambled to jump over the fence. I, my younger sister and two classmates managed to jump over the fence," she said. "I lost grip of my sister's hand in the confusion. I managed to return home with my two classmates, but my sister has not been seen since then. I believe she was among the girls taken by the gunmen."
President Muhammadu Buhari has promised the families of the missing girls that they will be found and their attackers brought to justice.
"We are sorry that it happened; we share your pain. Let me assure that our gallant armed forces will locate and safely return all the missing girls," Buhari said in a Twitter statement.
In a similar incident, Boko Haram militants kidnapped nearly 300 girls from a school in Chibok in April 2014, setting off global outrage.
Many of the Chibok girls were freed after negotiations, but more than 100 remain in captivity, their whereabouts unknown.
MUGABE, SIDELINED FROM POWER, BLASTS FORMER ALLIES WHO OUSTED HIM
After weeks of silence, former Zimbabwe president Robert Mugabe came out and delivered a furious tirade against his one-time party allies who engineered his ouster last November in an action they called Operation Restore Legacy.
Mugabe, in a rare display of resentment and bitterness, called his removal by military members of his own ZANU-PF party "unconstitutional." He was speaking at a private party at his Harare mansion where guests had gathered to celebrate his 94th birthday, according to the Standard newspaper which attended the event.