The Rev. Billy Graham passes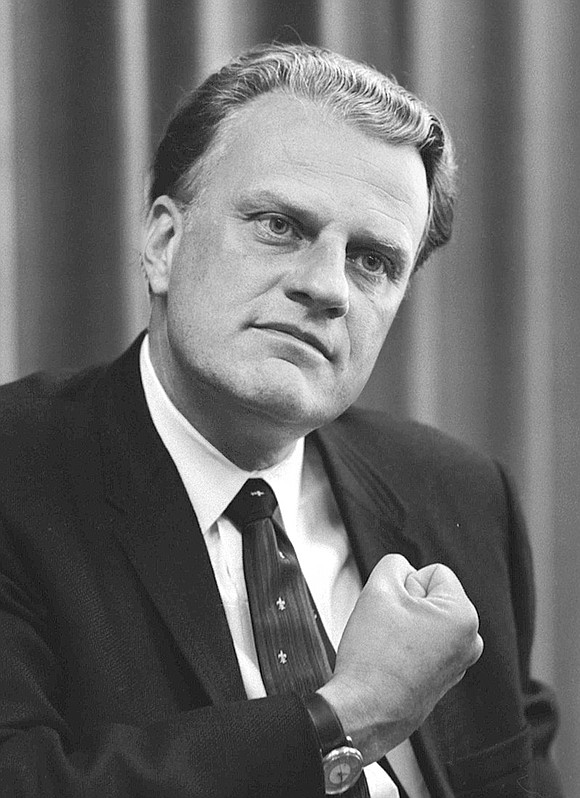 As I was growing up in the '60s and '70s in rural Marion, S.C., faith, belief in God and attending church were the bedrock of the James and Thelma Williams household. Unfortunately, much has changed over the past decades as it relates to worshipping, celebrating and acknowledging God in all things that we do. My mother was a Pentecostal. My older brother, Gerald, and I are the only two out of 10 children who joined her church. We remain devout members to this day. In fact, Gerald is a deacon in the church. My father was an African Methodist Episcopalian, and my eight other brothers and sisters remain devout members of his church.
In speaking to my sister earlier this week, after the passing of the Rev. Billy Graham, we shared a moment of sadness as well as many fond memories. More than any other evangelical minister, Graham had the greatest influence on the Williams' household. During his sermons, whether at a football stadium or an arena, thousands and thousands of people would come to hear his ministry. As a family, we would gather around the television in our living room and watch, hanging on every word. We appreciated him so much because he was the son of a North Carolina farmer who preached to millions in stadium events he called "crusades."
We never missed a sermon by Graham. In fact, one of the reasons why my father decided to buy a television (which was remarkable during the '60s) was so that we would never miss a crusade. Although today people celebrate major sporting events such as the Super Bowl, Olympics and other sports championships, my first memories of major events with raucous crowds were the televised crusades by Graham.
Through it all, Graham realized that he must decrease while his Lord increased. That's the essence of a Christian's walk—progression, not perfection. Graham eschewed the postmodern belief that God is not so holy that man cannot please Him simply by being good. When we say that, we discount the precious and meaningful role of Grace in our lives! Unmerited favor that our Lord pours onto His flock each and every day!
Lord Jesus, we ask that you welcome your faithful servant, Billy Graham, into your matchless love and salvation in this moment. Such powerful accolades in memorializing Graham. Even a great man of God and a disciple of Christ had a past stained with shortcomings and personal failings. And yet that is such a wonderful testament to a Christian's walk—a walk of imperfection wholly reliant on The One. Only he can redeem and restore our souls to union with our Creator one day.
Graham fully understood that the world says our problems are external and the solution lies internal, within each of us. Love yourself…follow your heart…be your own man. The gospel speaks differently: the world's problems lie within the heart of the individual. The solution is external; it can only be apart from us. Jesus Christ is that external solution.
I can't explain it all. The mystery of the Almighty eludes each of us. Yet it will be fully revealed one day. That is the essence of the faith that Graham passionately talked about. Faith says, "I forsake all reliance on my own self to save myself…and I take Him and choose Him as the Way, the Truth and the Life!" Through faith we believe, and that has made all of the difference.
Graham will be remembered as one of the greatest ambassadors of Christ, a modern-day Apostle Paul, spreading the gospel with both love and humility. He was one of the few Christian leaders who was able to operate beyond race and politics. It was his love for Christ that enabled him to reach disparate people from all over the world. As a child growing up in South Carolina, I fondly remember that my family would gather together around the television to watch his sermons and to hear his gospel. Both his powerful delivery and ability to convey God's words resonated with me and taught me that while we are all imperfect, we should try, in all things that we do, to live up to God's words.