Talking SCHOP! 'I'm So AmNewsFOOD!' Are you?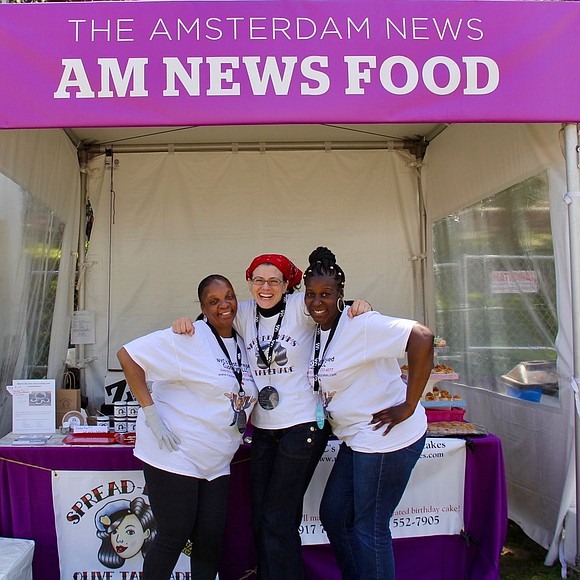 And just like that, it is time again to begin our search for our fourth annual Amsterdam News "I'm So AmNewsFOOD!" Harlem EatUp! contest. The winner(s) receive the opportunity to sample their food at the Amsterdam News booth in Harlem EatUp!'s signature event, The Ultimate Grand Tasting at The Harlem Stroll, to the throngs of Harlem foodies, tastemakers, chefs, restaurants and celebrities. Plus, a feature in the AmNewsFOOD special Harlem EatUp! pull out section.
Last year's winners, Nana's Homestyle Pound Cakes (www.nanashomestylepoundcake.com), NYC Best Dressed Cupcakes (www.nycsbestdressedcupcakes.com) and Spread-mmms (www.spread-mmms.com), wowed participants, opening new opportunities and developing relationships with new customers. In fact, some previous "I'm So AmNewsFOOD!" winners have moved on to sell their products in The Marketplace of The Harlem Stroll in the following years.
To aid in our quest for this year's contestants, we are so excited to announce AmNewsFOOD is teaming up with Hot Bread Kitchen and their HBK Incubates program. Based in East Harlem's historic La Marqueta, Hot Bread Kitchen continues to forge ahead to support community small food business with training, commercial facilities and business development. Some of our past winners and others featured at Harlem EatUp! have come from Hot Bread Kitchen.
Now it is your turn for this unique opportunity to get your food in front of chefs, television food personalities, restaurateurs, patrons and choosy Harlemites. Here are the requirements:
•You and/or your product MUST be from Harlem/made in Harlem!
You must produce 1,000 to 1,200 bite-sized samples to give away only. NO ITEMS WILL BE FOR SALE.
•Food products that can be served at room temperature or cold are optimal. Products requiring heating/electricity will be at an additional cost to you.
•To serve your samples, by the time of the festival, you must have:
(1) a Certificate in Food Protection issued by the NYC Department of Health and
(2) either a Food Establishment Permit (for restaurants/food trucks) OR Temporary Food Establishment Permit (everyone else). If not, you will be responsible for hiring a server from the festival caterer at an hourly fee.
Should you meet these requirements (or have proof you are in process of receiving them by mid-April, the latest), please email your submission with a photo of the product, a bio and a brief (200 words or less) description of your product and reason why you should be chosen to AmNewsFOOD@SCHOPnyc.com, subject line "I'm So AmNewsFOOD—(your product name)" no later than Friday, March 30, 2018.
Finalists will be invited to the Amsterdam News offices with their submission for a taste test by our staff and Hot Bread Kitchen. Good luck and may the best foods of Harlem win!
Happy eating and thanks for reading!
Kysha Harris is a food writer and editor, culinary producer, consultant and owner of SCHOP!, a personalized food service in NYC for more than 15 years. Follow her on Twitter and Instagram, @SCHOPgirl, on Facebook, /SCHOPnyc, and her blog, www.talkingSCHOP.wordpress.com. Questions? Comments? Requests? Feedback? Invitations! Email AmNewsFOOD at AmNewsFOOD@SCHOPnyc.com. Follow us on Instagram, Twitter and Facebook @NYAmNewsFOOD and tag us with #SoAmNewsFOOD with your food finds!