Brooklyn College wins CUNYAC title
LOIS ELFMAN | 3/2/2018, 3:01 p.m.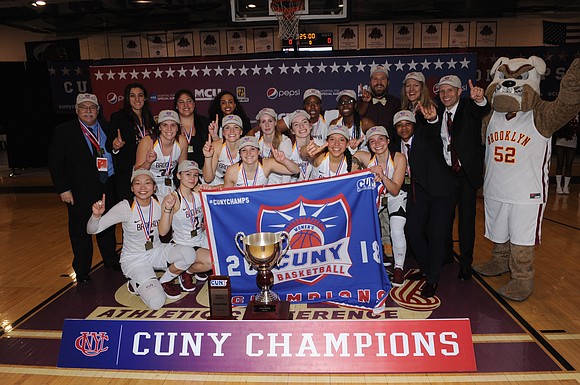 It was a win long in the making. Friday, Brooklyn College women's basketball won its first City University of New York Athletic Conference Championship in 38 years with a 59-50 victory over the College of Staten Island. For head coach Alex Lang, in his 16th season with the Bulldogs, victory is sweet.
"Obviously, it's an awesome feeling," said Lang, who has seen his teams come up short in five previous trips to the CUNYAC Championship game. "I'm enjoying it."
Lang gave the players the weekend off to enjoy the big win with family and friends. It's been a strong team throughout the season—dropping just three games. He said it was a positive that some of the players hadn't been part of previous losing efforts. They came into this year's championship game unfazed by pressure.
"We've had some very talented teams the last few years," said Lang. "Not every team can rise up to the level and have the right timing of playing your best basketball in the big moments."
He continued, "This year's team, we had a really nice balance of veteran leadership with our tri-captains Karen Mak, Breanna Maresca and Allie Moogan. They set the tempo all year. They're three pretty no-nonsense type people who work extremely hard, are very committed to this team and this program and really wanted to win above all else. When you have leaders that can set that kind of example and make the team about team goals and not about individual goals, it helps everyone else fall into that culture."
Add some talented newcomers such as freshman guard Chanel Jemmott, MVP of the championship game, junior forward Jasmine Hansgen, a transfer in her first year at Brooklyn, and freshman guard Taylor George, and the offense and defense have become unstoppable.
There are no athletic scholarships at Division III, so these players—who often have part-time jobs in addition to their studies—truly play for the love of the game. This win was all about hustle, heart and defense.
"Defense is what won us that game," said Lang. "We really stepped up defensively and limited them. We didn't give up much easy in that game."
He added, "This team showed a tremendous amount of poise."
Brooklyn will play Cabrini University Friday in Scranton, Pa., in the first round of the Division III NCAA Tournament.