CSI sustains winning tradition with CUNYAC Championship
LOIS ELFMAN | 3/2/2018, 3:07 p.m.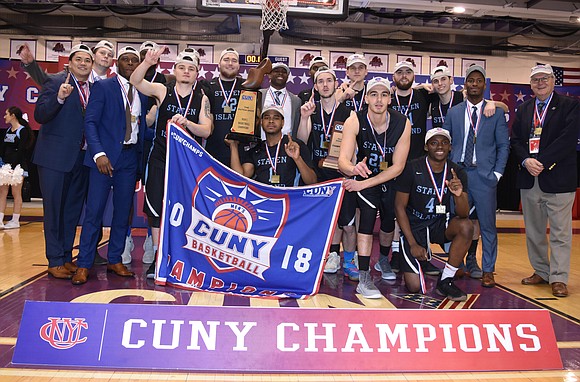 When T.J. Tibbs was named head coach of the College of Staten Island men's basketball last July, he was acutely aware of the college's winning tradition. A graduate of CSI, Tibbs won a City University of New York Athletic Conference title when he was a student-athlete and he faced CSI when he was an assistant coach at Baruch College.
"We have great leaders—our seniors and juniors. This team always had a hunger and a desire to improve and to want to be coached. I thought this was a resilient group that loved to compete. That enabled us to get better every step of the way," said Tibbs of the CSI Dolphins' 2018 CUNYAC Championship over Lehman College 77-75.
"From the program viewpoint, we talk about winning championships," he said.
Stepping in when longtime coach Tony Petosa resigned after 27 years at CSI, Tibbs knew it was important he surround his players with a coaching staff that not only have good basketball minds but strong character.
"This place helped mold me into the man I am today…It's an honor to be able to reciprocate," said Tibbs. "The four assistant coaches have been the heartbeat of the program. Without them, this transition wouldn't have been as smooth."
Tibbs appreciates that players at Division III don't have scholarships. Many hold down jobs in addition to school. So to play at this highly competitive level, players must have a love and commitment to the game.
"At the D III level, there's opportunity to put your own spin on it," he said. "We as coaches owe it to them to give them the best experience that they possibly can have, so we prepare them for life."
Tibbs praised his players, including sophomore guard Christian Taylor, who was named MVP, noting that several players gave MVP-worthy performances in the CUNYAC Tournament. Among those who stepped up big-time was senior guard/forward Edin Bracic, who performed both offensively and defensively. Also bringing it were sophomore guard Adeola Latunji and sophomore forward Jade Spencer.
The Dolphins open play in the Division III NCAA Tournament Friday versus Cabrini University. Tibbs' goal is to notch the win and take it from there.