Newark Beth Israel celebrates Black History Month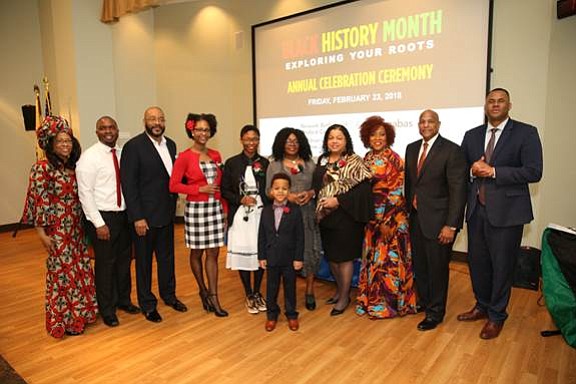 Feb. 23, Newark Beth Israel Medical Center and Children's Hospital of New Jersey hosted its annual Black History Month Celebration ceremony. Ryan P. Haygood. Esq., president and chief executive officer, the New Jersey Institute for Social Justice gave the keynote address, gospel recording artist Nancy Jackson performed a selection of songs and 7-year-old Master Hilton Rawls III gave a moving recitation of Dr. Martin Luther King Jr.'s "Mountaintop" speech. Several employees were recognized for their commitment to providing high-quality, safe care and an excellent patient experience at Newark Beth Israel Medical Center and Children's Hospital of New Jersey. Newark Beth Israel began celebrating Black History Month more than 30 years ago under the direction of Alma Beatty, a dedicated executive and community champion. Since its inception, the celebration has evolved into a month-long set of cultural and educational events for employees and local residents.
Newark Beth Israel Medical Center, an RWJBarnabas Health facility, is a 665-bed regional care teaching hospital that provides comprehensive health care. Newark Beth Israel is home to one of the nation's Top Five heart transplant centers, which has performed more than 1,000 heart transplants; RWJBarnabas Health's Heart Failure Treatment and Transplant Program; New Jersey's only Advanced Lung Disease and Transplant Program; and a Valve Center that performs more cardiac valve procedures, including minimally invasive transcatheter aortic valve replacements, than any other center in the state. Newark Beth Israel Medical Center is also home to Children's Hospital of New Jersey, which cares for children from birth through adolescence, with more than 30 specialized pediatric services, including New Jersey's largest Valerie Fund Children's Center for Cancer and Blood Disorders, and the Children's Heart Center, which offers a complete range of medical and surgical treatments for the most complex cardiac abnormalities. The Newark Beth Israel robotic surgery program is the most experienced in northern New Jersey. The Frederick B. Cohen, M.D., Cancer and Blood Disorders Center and the Healthcare Foundation of New Jersey Breast Health Center provide seamless integration of cancer prevention, specialized care and treatment options. Newark Beth Israel also offers many preventive health programs that promote wellness in the community, including The Beth Greenhouse, which provides access to fresh produce and health and wellness education to local residents.
Children's Hospital of New Jersey also includes a Neonatal Intensive Care Unit and a Level IV Regional Perinatal Center that offers New Jersey's only extracorporeal membrane oxygenation therapy, and the highest level of intensive care for both mothers and newborns.